Erik Kulleseid - Commissioner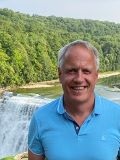 Erik Kulleseid was named Commissioner in January 2019. Previously, Mr. Kulleseid served as Senior Vice President, Parks and Policy Program for the Open Space Institute. He founded the Parks Program (originally the Alliance for New York State Parks) at OSI, along with State Council of Parks Chair Lucy Waletzky and former State Parks Commissioner Carol Ash in 2010. During his tenure, Mr. Kulleseid secured $30 million in private and public funds to support state park improvements and expand recreational access to parks, including the Jones Beach Revitalization Plan, the Humphrey Nature Center at Letchworth State Park, Thacher Park Center, Denny Farrell Riverbank State Park and number of transformational projects at Minnewaska State Park Preserve. He also launched OSI's Pulse of the Park series, profiling a number of state parks and their usership.
Mr. Kulleseid previously served as Deputy Commissioner for Open Space Protection at State Parks from 2007 to 2010. Among other accomplishments, he led the state team that oversaw the successful public-private effort to convert an abandoned railroad bridge in Poughkeepsie into the Walkway over the Hudson State Historic Park, the longest pedestrian bridge in the world and now a highly popular state park.
Prior to joining State Parks, Mr. Kulleseid served as the New York State Program Director for The Trust for Public Land, a national nonprofit land conservation organization, where he led efforts to protect a multitude of New York's special landscapes over his 13-year tenure, including East River State Park in Brooklyn.
Mr. Kulleseid graduated from Yale College, has a law degree from Stanford Law School and later obtained a forestry master's degree from the Yale School of Forestry and Environmental Studies. He practiced law at a Wall Street firm in the early 1990s. He grew up in the Hudson Valley next to Hudson Highlands State Park Preserve, and now lives in downtown Albany with his husband and two daughters. His first formal job was as a lifeguard at Harriman State Park's Lake Welch in 1982.