Welcome to New York State Parks and Historic Sites. It is our mission to provide safe and enjoyable recreational and interpretive opportunities for all visitors, recognizing individual needs and interests.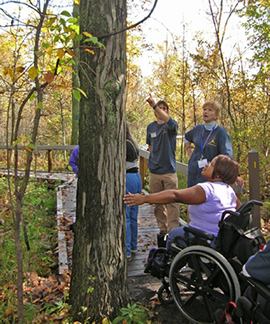 Pursuant to our Accessibility Policy, we are committed to making all reasonable efforts to ensure that our facilities, programs and services are accessible to and usable by visitors of all abilities, including those with limitations. We are continually working to ensure compliance with the Americans with Disabilities Act and the New York State Building Code.
Pursuant to our Accessibility Policy and Transition Plan, accessibility to parks and historic sites and the programs and services offered is achieved through physical design, specialized adaptive recreation equipment, interpretive resources and through reasonable accommodations.
All newly built or newly renovated facilities and trails, as well as newly developed programs and services will adhere to the most current standards for accessible design, as applicable. All existing facilities, as well as programs and services, are being assessed for compliance to these standards and a plan to renovate all non-compliant features is in the process of being established and implemented.
Wheelchairs may be used wherever pedestrians are allowed. Our Other Power-Driven Mobility Devices describes that if you use such a device for a mobility disability, it will be allowed in all locations except those that have been determined to potentially present a safety hazard to you or other visitors or negatively impact the natural environment. Permits issued at the facility will be required for gasoline powered devices and registration may be required upon arrival at the facility. Please follow the reasonable speed limits and other safety precautions that are established.
Your service dog is welcome wherever patrons are permitted to go regardless of other pet policies unless it poses a danger to the public utilizing our facilities. It must remain under its handler's control at all times.
Given the vast size and scope of the New York State Park system, this is an evolving and ongoing project. As we increasingly make our facilities and programs more accessible, information will continue to be made readily available at our facilities, in publications and informational materials and on this website. We encourage you to visit the "Amenities and Activities" sections of each park or site page to find the latest accessibility information for that facility. We also strongly recommend that you contact the facility in advance of your visit to understand what you can expect and how best to make yours a positive experience.
If you have a reasonable accommodation request, we welcome you to bring it to the attention of the Facility Manager who will make every effort to fulfill it pursuant to our policy on Non-Discrimination Equal Access and Reasonable Accommodation. For general questions, suggestions and comments about accessibility in New York State Parks and Historic Sites please contact us via email or call 518-486-9397 or the New York Relay system for TTY users. For information about the Access Pass program for New Yorkers with certain permanent disabilities visit Access Pass or call 518-474-2324 or the New York Relay system for TTY users.