New - Online Hunter Education Course
From April 15, 2020 until June 30, 2020, you can complete all the requirements to earn a NYS hunter education certificate online. Anyone age 11 or older can take the online course. You must be a New York State resident. If you successfully complete the course, and pass the final exam, you will receive your NY hunter education certificate. The cost of the course is $19.95. The course can be found on the hunter-ed website

Additional requirements for bowhunting big game: If hunting deer or bear with a bow, you must also take a Bowhunter Education course.
*New Hunter Education classes are added continuously throughout the year. Most of the classes are taught between March and September.
*Hunter Education classes are not usually offered between November 1st - February 28th.
*Do not wait until just before the hunting season to take a class. Classes fill quickly, so it is important to sign up early.
Hunting in New York State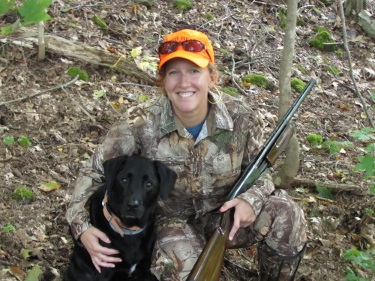 New York State contains an extraordinary diversity of wildlife that make a unique contribution to the biodiversity and recreational resources of the state. Wildlife provides rewarding outdoor experiences throughout the state in the form of wildlife viewing, hunting and fishing. According to the New York State Department of Environmental Conservation (DEC), hunting is among the most popular forms of wildlife recreation in the state, drawing nearly 700,000 New Yorkers and over 50,000 out-of-staters. Hunting is a safe and economically important outdoor pursuit, helping to balance wildlife populations, promote family traditions, while fostering an understanding and respect for the environment and the complexity in which it functions.
To be a successful hunter, one must learn about wildlife biology and observe the habits of the species they are pursuing. Many sons and daughters go out each year with their parents to learn the necessary skills of identifying signs of wildlife in the forest and what those different signs mean, such as a rub on a small tree from the antlers of a buck and how long ago the mark was left. Specially-designated seasons for youth hunts are offered, where children (age 12-15) and their guardians hunt without pressure from the regular season.
All New York State hunters must pass one or more state licensed sportsman's education classes before they can purchase a hunting license. All hunters must report any deer, turkey or bear they harvested along with the sex, date and county. This reporting system helps the NYS DEC to establish statewide population estimates for these species and monitor the hunting program and allowable harvest. Hunters are avid supporters of conservation efforts with the money generated from their licensing fees and taxes on firearms and ammunition going to wildlife species conservation. In addition, hunters generate over 1.5 billion dollars in economic activity in the state.
Hunting within State Parks
New York state lands offer many places to hunt, including 81 parks, 3 historic sites, 3 golf courses and 50 boat launches that provide chances to hunt a variety of different wildlife including big game, small game, turkey, furbearers, waterfowl and migratory bird species.
Learn more about Statewide Hunting Regulations in NY State Parks and the Policy on Possession of an Unloaded Firearm for the Purpose of Accessing Adjacent Lands for Lawful Hunting Purposes.
In addition to a valid hunting license, all hunters wishing to take advantage of select hunting seasons within State parks will need to obtain a regional hunting permit for each individual park.The hunting permit will specify which species can be hunted, any additional seasonal restrictions, areas available for hunting, and what implements (e.g. shotgun, bow, or crossbow) can be used. Please contact the park directly to learn about what hunting opportunities are available at that location.
Resources