UPDATE FOR 2021 PAVILIONS: New York State Parks is pleased to introduce the new pavilion Reservation System on Reserve America. Operating on an 11-month window, patrons can visit online or call Reserve America for pavilion reservations for the 2021 season. Online reservations are recommended.
COVID-19 UPDATE: NYS Parks is currently accepting new pavilion reservations, however, COVID restrictions may impact the size of group gatherings. Rentals must be in accordance with county, state, and CDC policies in place at the time of the reservation. A NY Forward Plan

may be required. Please call the State Park you are interested in for current guidelines.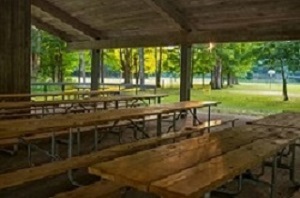 Pavilion Rentals at NYS Parks
Are you planning a special event and looking for that perfect spot? Discover the pavilions of New York State Parks! With over 250 pavilions and picnic shelters across the state, there is sure to be one just right for your gathering. Sizes and amenities range from intimate gazebo to large covered shelters for 600 people with restrooms.
Reservations
New for 2021! Pavilion and shelter reservations are now reservable online or by calling Reserve America. Reservations can be made exactly 11- months in advance by calling toll free 1-800-456-2267 or https://newyorkstateparks.reserveamerica.com. If the date is less than 14 days out, you must call the facility directly for availability. Please note the facilities on Long Island will appear online but do not operate under the 11-month window.
Permits
Many New York State Parks offer permits for alcohol, amplified music, bounce houses, weddings, and more. Please call the park you are interested in directly for information on what permits are available and to purchase any permits you will need for your event.
Reservation & Rental Fees
What does it cost to rent a pavilion?
Pavilion, shelter, room and tent rental use fees are varied based on size and amenities.
Reservation fee: $7.25 per rental. This is in addition to the rental fee. All fees paid in advance.
Walk-in fee: $1.25 per rental. This is in addition to the rental fee. All fees paid at the facility.
Vehicle entrance fees are not waived with rental use.
Cancellation Policy
To cancel your reservation call 1-800-456-2267. Or if you have an online account with Reserve America, login, look for My Account, and select Current Reservations. Then find the reservation you would like to cancel and select See Details. The Cancel Reservation option is located on the upper right. If you are cancelling the day of your reservation you must call the park.
Reservations cancelled 30 days or more prior to arrival receive a full refund minus the $7.25 reservation fee and the $7.25 cancellation fee.
Reservations cancelled 29 to 10 days prior to arrival receive a refund that is half of the use fees minus the $7.25 reservation fee and the $7.25 cancellation fee.
Reservations cancelled 9 days or less prior to arrival receive no refund.
All fees are retained if you fail to arrive and do not inform the park of a cancellation in advance.
Changes or Transfers
There is a $7.25 transaction fee required to make a change to any reservation. To make any changes to your reservation you must call 1-800-456-2267 at least 1 day prior to your scheduled arrival.