COVID-19 UPDATE:
Pavilion Reservations 2020: NYS Parks is currently accepting new pavilion reservations with 50 people or less for the 2020 season on a park by park basis. Please call the State Park you are interested in to find out more information. For reservations previously booked that have more than 50 people or is cancelled due to COVID-19, please call the park regarding your refund.
UPDATE FOR 2021 PAVILIONS: New York State Parks is pleased to introduce the new pavilion Reservation System on Reserve America. Operating on an 11-month window, patrons can visit online or call Reserve America for pavilion reservations for the 2021 season. We encourage online reservations as the Call Center is experiencing longer than average wait times.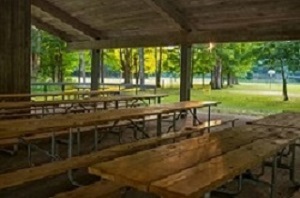 Pavilion Rentals at NYS Parks
Are you planning a special event and looking for that perfect spot? Discover the pavilions of New York State Parks! With over 250 pavilions and picnic shelters across the state, there is sure to be one just right for your gathering. Sizes and amenities range from intimate gazebo to large covered shelters for 600 people with restrooms.
Reservations
For 2020, reservations are made through the individual park but availability can be viewed at:
https://newyorkstateparks.reserveamerica.com
New for 2021! Pavilion and shelter reservations are now reservable online or by calling Reserve America. Reservations can be made exactly 11- months in advance by calling toll free 1-800-456-2267 or https://newyorkstateparks.reserveamerica.com. Please note the facilities on Long Island will appear online but do not operate under the 11-month window.
Permits
Many New York State Parks offer permits for alcohol, amplified music, bounce houses, weddings, and more. Please call the park you are interested in directly for information on what permits are available and to purchase any permits you will need for your event.