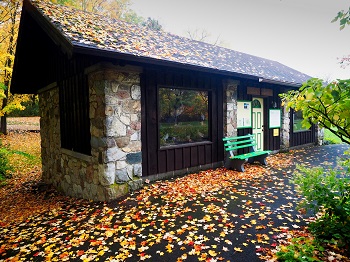 The Nature Center at Clark Reservation State Park is situated in a 1930's stone building that was initially used as the Park Office. Today, the Nature Center is operated by the Friends of Clark Reservation, a non-profit organization dedicated to the education and advancement of natural and environmental issues, with particular emphasis on park geology and formation, wildlife and botany. Ongoing exhibits include wildlife mounts, glacial evolution, rock strata, plant life, park history and human/natural interaction.
The Friends group employs a weekend Naturalist from Memorial Day through Labor Day, offering field trips and demonstrations. Volunteers fill in during the week. Directly outside the center are two native plant gardens. One highlights native plants of Central New York, the other showcases plants native only to the park.
The park is open year-round. Special requests by school and youth groups, seniors and others can be arranged if possible. For more information, visit their Facebook page or website: www.friendsofclarkreservation.org.
Hours of Operation
Open seasonally from mid-May through Labor Day.

Special requests by school groups, youth groups, seniors, and those with special needs are available in-season and by appointment in the off season.