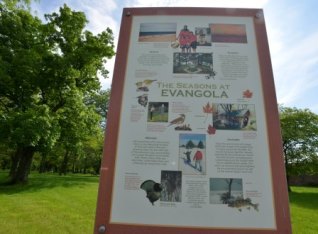 The Evangola Nature Center is in historic 1929 YWCA Recreation Building with original hieroglyphs and art from the women who stayed at "Camp 40 Acres" during the 1930s. During World War II, women who worked in defense plants were invited to the progressive Camp 40 Acres for "interracial weekends," which gave them the opportunity to enjoy the outdoors together and learn how to work together to accomplish goals. In 1957 Mary Elizabeth Woods became the executive director of the camp, the first African American in the nation to hold that position.

The Evangola Nature Center offers activities and displays focused on the Lake Erie environment that surrounds it. Call (716) 282-5154 for nature center hours and information on outdoor education programs.

Also visit Evangola's Nature Up Close page.

No Pets allowed inside of the Nature Center.