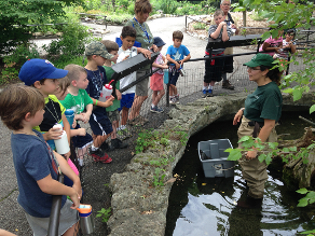 Trailside Museums and Zoo is located within
Bear Mountain State Park
.
Trailside is located on a short section of the Appalachian Trail overlooking the majestic Hudson River. The paved trail takes visitors by exhibits of native wildlife, which are permanently injured and unable to live independently in the wild. Black bear, eastern coyote, porcupine, bald eagle, and many other native species call Trailside home. Four quaint stone museums are also situated along the trail. The Reptile, Amphibian, and Fish Museum exhibits live specimens, ranging in size from tiny spring peeper frogs to a six-foot black rat snake. The Geology Museum showcases the prehistory of the Hudson Highlands, from its geologic origins to the early iron mining industry. The Nature Study Museum houses historic taxidermy specimens of small animals including insects, birds and mammals. Finally, the History Museum, largest of the four, exhibits artifacts and displays interpreting the history of local Native Americans, colonists, the Revolutionary War, and the founder of the Boy Scouts, Dan Beard. A trip to Trailside is rounded-out with spectacular views of the Hudson River and Highlands.
Please note, pets are not permitted within the Zoo. Please take all non-service animals on the Blue-Blazed By-Pass Trail for access between Bear Mountain State Park and the Bear Mountain Bridge.
Mailing Address
Trailside Museums & Zoo PO Box 427 Bear Mountain, NY 10911
Hours of Operation
Open daily, except for Thanksgiving and Christmas.

April 1 – October 31, 10:00 AM – 4:30 PM

November 1 – March 31, 10:00 – 4:00 PM

Bears and coyotes go off exhibit 30 minutes prior to zoo closing time. Museums shut 15 minutes prior to zoo closing time.
Fees & Rates
Admission
$1.00/person suggested donation.

Buses

To enter the Bear Mountain State Park via bus, please obtain a permit at least 2 weeks in advance. Call 845-786-2701 ext. 244 for bus permit application.

$60.00 per bus for non-profit organizations with 501 (c) (3) form from IRS.

$100.00 per bus all other groups (family, friends, companies).

Parking

$10/vehicle at Bear Mountain State Park parking lot.

Allow 20 minutes to walk from parking lots to Trailside. Allow 1 to 2 hours for your visit at Trailside. The bears and coyotes go off exhibit 30 minutes prior to zoo closing time. Museums shut 15 minutes prior to zoo closing time.
School Visits, Field Trips & Tours

Please contact Trailside Environmental Educator Chris O'Sullivan at 845-942-3861 or chris.osullivan@parks.ny.gov to schedule your school or other group visit, even if you are not interested in a tour. Educational tours may be available for smaller groups. Please make your plans at least 4 weeks in advance of your visit to Trailside.