Join us for a First Day Hike on January 1, 2024!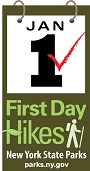 Looking forward to a fresh start in 2024? Why not plan for something fun on New Year's Day and help us celebrate the kickoff to our Centennial year!
Celebrate the New Year in the outdoors with a First Day Hike at one of the many events across the state and nation.
The New York State Office of Parks, Recreation and Historic Preservation (State Parks), the Department of Environmental Conservation (DEC), and the Canal Corporation invite New Yorkers to kick off 2024 by participating in one of the many hikes being held at state parks, historic sites, wildlife areas, trails, and public lands across the Empire State.
The 13th annual event includes options for hikes ranging from self-guided treks to staff- or volunteer-led hikes, with some locations offering multiple options allowing people the time and space to enjoy nature's winter wonders.
The walks and hikes are family-friendly and typically range from one to five miles depending on the location and conditions. Hikes are planned at state parks and historic sites, DEC State lands, wildlife areas, Forest Preserve trails, canal trails and towpaths, and environmental education centers. Please check back for more details (host locations are still being added) and whether pre-registration is required.
Many New Yorkers thrive in winter and are eager for falling temperatures and consistent snowfalls. To these hardy adventurers, a few extra layers of gear combined with the snowy terrain of parklands is a winning recipe for fitness, togetherness, and outdoor fun. If you've never been on a First Day Hike, save the date and we'll see you out there!
Find a First Day Hike Near You