A letter from Commissioner Rose Harvey
Dear I Love My Park Day Volunteer: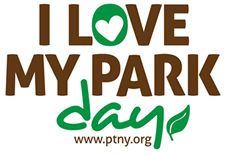 On Saturday, May 6th, a record number of you turned out to participate in volunteer projects at New York State parks and historic sites across the state as part of the sixth annual I Love My Park Day, a partnership between New York State Parks and Parks & Trails New York. On behalf Governor Cuomo, I extend a huge, heartfelt thank you for your amazing efforts.
This year, approximately 8000 volunteers completed an impressive array of projects to beautify our facilities and prepare them for the summer season. Your efforts demonstrated just how important your parks and historic sites are to your families, communities, and to our entire state as places to be active, explore the outdoors and relax with family and friends. It is our honor to work every day to ensure that all state parks are open and accessible for all to visit, but we could not do it without you—the volunteers and friends who work not just on I Love My Park Day but year-round to make our parks and sites the very best they can be.
The sixth annual I Love My Park Day was our biggest yet with events at 125 state parks, historic sites and public lands. But, most impressive continues to be the spirit of community and service seen in our parks and sites on this wonderful day of volunteerism. On behalf of New York State Parks, thank you for all that you accomplished on May 6th and we look forward to seeing you at our parks and sites this summer.
With thanks,

Rose Harvey
Commissioner
I Love My Park Day 2017 Photo Album
Press Release from Governor Cuomo