Free State Parks Explorer App Connects Visitors with the Outdoors
The New York State Office of Parks, Recreation and Historic Preservation launched a mobile app to provide visitors and prospective visitors helpful information about the variety of destinations, activities and adventures available throughout the Empire State's state parks and historic sites.
Download Today
Some key highlights and recent enhancements include:
The Parks Explorer App is free for both iOS and Android devices, available in the Apple and Google Play stores;
The app is a user-friendly resource for visitors to plan outdoor adventures while staying connected to long-time favorite parks and sites;
Users can discover new must-see locations with rotating curated content, and will enjoy quick access to park information, including directions, hours, fees and rates, trail maps, and helpful know-before-you-go details;
Empire Pass holders now have the flexibility to digitally add their pass to the NY State Parks Explorer App.
Link directly to online camping reservations to book a stay, and
Users will have the ability to build a growing list of most-loved places and receive important updates and alerts.
Mapping Tools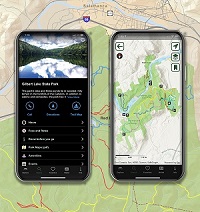 The Explorer app includes mapping tools to assist visitors with helpful wayfinding information when in the parks and on the trails. The new features include offline maps for use when connectivity is a challenge, and live maps for use on Wi-Fi or with good connectivity.
Interactive map elements now provide visitors:
Easier wayfinding: When the user's mobile device's location services are turned "on", visitors can easily follow along with where they are on the map;
The ability to zoom in on and around each map to learn more about the facility;
Information about trails, park features and amenities by simply tapping on a trail or icon;
Trail segment distance; and
The ability to change base layers in live maps from satellite view, simple street view or topography.
The app also includes a link to a brief video

to demonstrate the new mapping features. Additional improvements as part of the Park Explorer app's new release are the expansion of the search function so that visitors can search for parks and historic sites from multiple regions at a time, and users will now have easier access to NY State Parks Gift Cards and Shop.