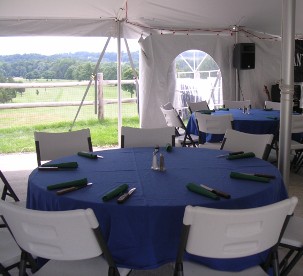 Register and Book Online Tee Times
James Baird State Park is situated on farmland once owned by James Baird, a contractor and engineer whose firm constructed the Lincoln Memorial. In 1939 James Baird donated the 590 acres of land to New York State under the stipulation that it be known as James Baird State Park. Work began on the park and golf course in 1940. Construction continued intermittently during World War II and the golf course was officially opened in 1948. Nationally renowned golf architect, Robert Trent Jones designed a scenic, fairly flat 18-hole golf course on this large tract of farmland in Pleasant Valley. Hole 4 is the only Par 5 on the front nine and offers many challenges. The right side woodline is OB from tee to green. A fairway bunker on the left is very reachable for longer hitters. The ideal tee shot is just right of the fairway bunker, but that's just the tee shot... Deep bunkers on the front left of the green and along the right edge will keep players engaged and weary.
In addition to the golf course, the park now also boasts a driving range, pro shop, clubhouse and a snack bar at the 1st and 10th holes.
James Baird State Park has much to offer. There are spacious open and wooded picnic areas and two reservable picnic pavilions which can accommodate up to 300 persons each. There is also a sports complex where visitors enjoy playing basketball, softball, tennis and volleyball. Additionally there is a playground and a nature center. Open summer weekends, the nature center loans recreational equipment and offers nature programs.
Outdoor enthusiasts will find the seven miles of scenic wooded trails ideal for hiking in the warm months and cross country skiing and snowshoeing in the wintertime.
JB's Bar and Grill
JB's Bar and Grill is open to the Public 7 days a week during the golf season. Come enjoy breakfast, lunch, and dinner, catering available onsite in our large tent or off site. Dinning available inside or enjoy beautiful views from the large outdoor patio with fire pits for evening meals.
Email mkatcatering@yahoo.com Phone# 845-286 2633
Forward
Par
73
Slope
112
Rating
70.3
Yardage
5454
Regulation
Par
72
Slope
122
Rating
70.8
Yardage
6356
Championship
Par
72
Slope
124
Rating
72.7
Yardage
6815