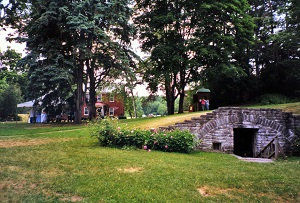 Situated overlooking the Mohawk River, this Georgian-style mansion was home to General Nicholas Herkimer. Construction of his residence on the colonial frontier was completed around 1764. General Herkimer's place in history was assured in 1777 when he assembled 800 militiamen, supported by 60 allied Oneida warriors, and marched to defend Ft. Stanwix against a British siege. Considered to be a significant turning point in the Revolutionary War, the Battle of Oriskany, fought on August 6, 1777, has been described as one of the bloodiest battles of the war. Although wounded in the leg, Herkimer kept command during the fierce combat. After the battle he was carried home where he died 10 days later from complications following the amputation of his leg. Herkimer's estate was home to many over the years, including his family, enslaved people who helped run the estate, soldiers encamped during the war, and neighbors seeking refuge from the fighting in the Mohawk Valley. During the 1800's the property saw much change as the first the Erie Canal, and later the railroad, cut across it. Today the site can easily be reached from the highway, river or Canalway Trail. Visitors are invited to tour the mansion and view the visitor center exhibits; and also explore the grounds to discover General Herkimer's final resting place, a recreated kitchen garden, remnants of an Erie Canal lock, and scenic views of the Mohawk River.
Hours of Operation
Guided tours are available:

Wednesday through Sunday and Monday Holidays, from Memorial Day through Labor Day.

Friday to Sunday and Monday Holidays from Labor Day through Columbus Day.

The tours run every hour on the hour beginning at 10am, with the last tour leaving the visitor center at 4pm.
Fees & Rates
Most New York State Parks charge a vehicle use fee to enter the facility. Fees vary by location and season. A list of entry fees and other park use fees is available below. For fees not listed or to verify information, please contact the park directly.
Admission
$4 Adults
$3 Seniors/Students
Children under 12 are free.




For more information, to check tour times, availability, or make reservations, please call 315-823-0398

Vehicle Entrance Fee
Free
Maps
Guided Tours of Herkimer Mansion
Guided tours are available Wednesday through Sunday, from Memorial Day through Columbus Day. The tours run every hour on the hour beginning at 10am, with the last tour leaving the visitor center at 4pm. Group tours of ten or more are available by advanced reservation. Please call the site at (315) 823-0398 to make a reservation.
Palatines and Presents: A German Christmas
Sunday, December 3, 2023 03:00 PM - 06:00 PM
Herkimer Home State Historic Site
General Herkimer's colonial mansion will be decorated in an 18th century style for the holiday season. Historical interpreters will fill the home and provide living history vignettes showcasing how our forefathers celebrated the Christmas holidays! Be sure not to miss the German Foodways program in our museum hearth which will fill the air with the aromas of Christmas and holiday cheer. Warm up by the fire and celebrate a year gone by as you join in our celebrations just as the residents of the Mohawk Valley would have 250 years ago! Children in attendance are welcome to join in and craft their own Christmas ornaments with our interpretation staff and volunteers as they learn how to get in the holiday spirit of the 18th century. Make sure they have been good however...rumor has it, all these 18th century festivities have brought with it a figure from Christmas's past. The Belsnickle is expected to make his presence known as a part of our celebration with treats for those children who have remained good this past year and a holiday warning for those who have misbehaved...but don't worry, there is still time to heed his warnings and share in his treats! Don't miss out on this year's holiday celebration and join in the fun! Warm refreshments, and holiday cheer await you at this year's German Christmas celebration at Herkimer Home!
Standard site admission of $4 for adults and $3 for students/seniors will be charged; children 12 and under are free.
First Day Hike
Monday, January 1, 2024 01:00 PM
Herkimer Home State Historic Site
As we start the new year join in on Herkimer Home's first day hike! This year's hike will follow the two mile stretch of the old Eire Canal as it winds alongside the scenic Mohawk River. Bring appropriate clothing for the weather conditions. the trail may be snow covered, snowshoes are welcome. Meet at 200 NY-169, Little Falls NY, 13365.