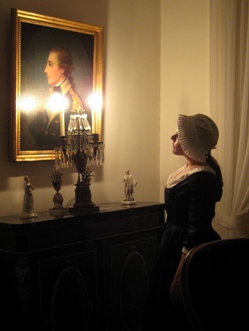 Clermont State Historic Site was the country seat of the Livingston family. Originally a Georgian Mansion, over the years the house was added onto to give it its present appearance. Seven generations of Livingstons as well as dozens of enslaved people and paid servants lived at Clermont. The land surrounding the house was occupied by tenant farmers, beholden to the Livingston, the farms of small freeholders and mills. For the first few generations, Livingston owned ships full of paid sailors plied the river between Clermont, New York City and Albany. Over time, through land sales and the division of land through gifts and inheritance Clermont's land shrunk until it was just the confines of the present historic site. With this contraction of land came a contraction of power and influence for the family.
Today Clermont is decorated as it appeared circa 1930 when it was home to Alice Delafield Clarkson Livingston, her daughters Honoria and Janet, and their staff of servants.
Designated a National Historic Landmark in 1973, Clermont is also an anchor of the Hudson River National Landmark District.
Don't miss these popular destinations and attractions within or near Clermont State Historic Site:
· Gift Shop - Located in the Visitor Center is currently closed and will reopen summer 2023.
· Visitors Center - View Spero Meliora: Life in the Land of Livingston
Clermont was the home to generations of the politically powerful and wealthy Livingston family, but they were not the only people who lived at the site. Enslaved people, indigenous people, tenants and paid workers all lived and worked here and left their own mark on the site. The exhibit explores how the lives of the Livingstons of Clermont, and all the other residents of this location were intertwined and how they left their imprint on the mansion's appearance and legacy.
The Four Gardens of Clermont
o Cutting Garden - once provided cut flowers for vases in the house
o Walled Garden - influenced by gardens in Florence, Italy
o Wilderness Garden - connects the Upper Garden with the Walled Garden, the centerpiece is the fishpond
Hours of Operation
Guided House Tours

Reopening: June 8, 2023 year-round

Thursday-Sunday 11:00am-4:00pm Tours on the hour

Visitor Center
Hours: Currently Friday-Sunday, 10:30am-4:00pm expanding on June 8, 2023 to Thursday-Sunday, 10:30am-4:00pm. Open year-round.

For more information or to schedule a group tour, please call (518) 537- 4240.

Gardens & Grounds: Open year-round 8:30 am to sunset.
Fees & Rates
Most New York State Parks charge a vehicle use fee to enter the facility. Fees vary by location and season. A list of entry fees and other park use fees is available below. For fees not listed or to verify information, please contact the park directly.
The easy-to-use Empire Pass card is $80- and your key to all-season enjoyment with unlimited day-use entry at most facilities operated by State Parks and the State Dept. of Environmental Conservation including forests, beaches, trails and more. Purchase online or contact your favorite park for more information. Learn more about our Admission Programs including the Empire Pass.
Vehicle Use Fee

$5

Fee collected at Pay Stations in the parking lot weekends and Monday holidays between April 1st - October 31st from 11:00a.m. to 4:00p.m., and for special events at the gate.

Admission/House Tours
$7 - adult
$6 - Seniors/students over 12
Free - Children under 12

Please inquire for group & school group rates.
Educational Programs
$2/student on-site
$50/class off-site
Lawn Rentals for Parties

Arryl Lawns – North and South - $1,000




Southwest Lawn: $2,800




Mansion North - $1,500




Wedding ceremony - $400

Picnicking - Group Picnics
$40 - permit required for over 25 people
$50 - for groups over 50 persons
$100 - for groups over 100 people
Maps

New! Download this park's digital map to your iOS Apple and Android device.
Clermont was built by Robert Livingston during the 1730's on 13,000 acres left to him by his father Robert Livingston, First Lord of Livingston Manor. The house was home to seven successive generations of the Livingstons family but also dozens of enslaved people and paid workers.
The house was burned by the British army in 1777. Margaret Beekman Livingston worked to have the house rebuilt, between 1778 and 1783, by using her family's power and influence to have the governor release local workers, most descended from Palatine immigrants, released to work on the home. The British burned the home because of the family's deep ties to the Revolutionary War. Margaret's husband, Judge Robert R. Livingston, had been a host and member of the Stamp Act Congress and had also built the first gunpowder mill in New York. Her son Henry Beekman Livingston was colonel of the 4th New York Regiment. Her eldest son, and the house's most prominent resident, Chancellor Robert R. Livingston was a member of the Continental Congress and had helped draft the Declaration of Independence. He also helped to draft the New York State Constitution and served as Secretary of Foreign Affairs under the Confederation government. After the war he would negotiate the Louisiana Purchase and coinvent the first practical steamboat, The North River Steamboat of Clermont, or The Clermont for short.
Subsequent generations of the family never rose to the power and prestige of the revolutionary generations but did do their best to preserve the legacy of that generation.
Throughout all these generations enslaved people and, after the technical end of slavery in New York in 1827, paid servants were tasked, whether against their will or for money, with mundane housekeeping work ensuring that Livingstons could live comfortably and project an image of power and importance.
Guided House Tours
Tours resume June 8, 2023. Tickets may be purchased in the Visitor Center.
Year-round
Thursday - Sundays, 11:00 am to 4:00 pm (last tour at 4:00 pm)
For more information or to schedule a group tour, please call (518) 537-4240
Visitor Center:
Currently open Friday - Sunday, 10:30am to 4:00pm and Monday Holidays
Beginning June 8, 2023 hours will change to Thursday-Sunday 10:30am-4:00pm and Monday holidays
Group tours by appointment only.
Gardens & Grounds: Open year-round, 8:30am to sunset
Vehicle Use Fee - Pay Stations: Collected 4/1-10/31, weekends and holidays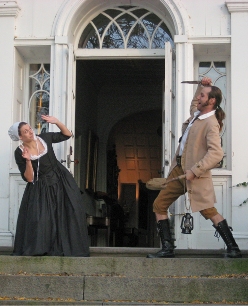 Throughout the year, Clermont hosts special events that highlight the site's whole history. Major events include The Sheep and Wool Showcase, Independence Day at Clermont, Legends by Candlelight and The Holidays at Clermont. In addition lectures, performances, and activities for children throughout the year offer everyone opportunities to experience different aspects of the history of Clermont, the Livingstons and all those who lived and worked here for generations. Please check out our Facebook page, www.facebook.com/ClermontSHS for information on upcoming events.
Deer, archery only. Limited and controlled hunt annually from November 1 through November 30. Special permit required - by lottery. Orientation session required; strict boundary limits. Call site for details and to request an application for the lottery : (518) 537-4240.