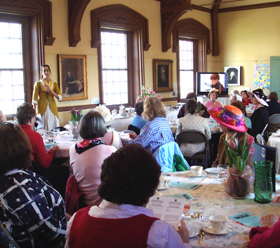 On November 28, 1776, the same year that 56 Americans signed the Declaration of Independence, well over 200 colonial New Yorkers placed their signatures on a "Declaration of Dependence." These signers were Loyalists, citizens who remained faithful to their sovereign, George III, King of Great Britain. Prominent among the signatures was that of Frederick Philipse III, Lord of the vast Manor of Philipsburg and resident of the elegant mansion known today as Philipse Manor Hall. Frederick Philipse III and his family lived in luxury, well supported by rents from the many tenant farms on his property. Times were changing, however, and while others rebelled against Great Britain, Frederick III defended the Crown. His Loyalist beliefs were so strong that General George Washington ordered him arrested in 1776. Philipse and his family later fled to British occupied New York City and then to England, where the last "Lord of the Manor", broken in spirit and health, died in 1786. His land and his mansion were confiscated by the New York State Legislature and sold at public auction.
In 1868, after passing through the hands of many owners, the house became Yonkers Village Hall and, in 1872, the first City Hall. By the 20th century, city growth threatened the Manor Hall's future until it was acquired by New York State in 1908 with the generous help of the Cochran Family of Yonkers. Today, Philipse Manor Hall serves as a museum of history, art and architecture, as well as host to community organizations, meetings, educational programs and special events. Highlights of the Hall include its 18th century, high style Georgian architecture, a 1750s papier mache Rococo ceiling, and an impressive collection of presidential portraits, including the six Presidents from New York State.A Community Gallery has been created at Philipse Manor Hall to display materials which support the Manor Hall's programs and services and relate to the local community. Exhibit policy and application forms are available at the administrative office. Both individuals and organizations are welcome to apply.
Don't miss these popular destinations and attractions within or near the historic site
Beczak Environmental Education Center-exhibits and programs both indoors, outdoors and in the Hudson River! Maintained by Sarah Lawrence College
Philipse Manor Hall Community Gallery-located on the ground floor of the museum, this space features a rotation of works from local artists. The community gallery is free to enter any time the museum is open.
Science Barge-The Science Barge is a prototype sustainable urban farm developed by NY Sun Works and operates as an environmental education center. The barge is maintained by Groundwork Hudson Valley.
Untermyer Gardens Conservancy- Located a few miles north of the Manor, the Conservancy collaborates with the City of Yonkers to facilitate the restoration and promotion of Samuel Untermyer's property and gardens for the general public. Open daily until sunset, free of charge.
Philipsburg Manor-another site of Frederick Philipse, this restored Dutch Colonial manor house and grounds features farm animals and a water-powered mill. Maintained by Historic Hudson Valley
Sunnyside-19th century romantic landscape estate of Washington Irving (author of Rip Van Winkle, among other others). Maintained by Historic Hudson Valley.
John Jay Homestead State Historic Site-located 20 miles north of the Manor Hall, the Homestead is the retirement home of local Founding Father and Philipse relative, John Jay. Situated on 52 acres of the original property, the grounds are open daily with scheduled guided tours of the house on most days.
Rockefeller State Park Preserve-located 15 miles north, idealized carriage trails created by John D. Rockefeller, Jr. Access to 55 miles of meandering trails with streams, pastures, ridges, a 22-acre lake and the Hudson River.
Old Croton Aqueduct State Historic Park- Opened in 1842 to bring fresh water to NYC, in 1968 the New York State Office of Parks, Recreation and Historic Preservation purchased 26.2 miles of the original 41 mile aqueduct which is now a hiking, biking and walking trail that passes a few blocks away from Philipse Manor Hall.
Additional Community Art Galleries: Blue Door Art Center, Riverfront Library Art Gallery, Urban Studio Unbound and Warburton Galerie.
Hours of Operation
April-October:
Tuesdays through Saturdays (12 pm - 4:30pm)
Closed holidays.

November-March:
Tuesday through Saturday (12 pm - 3:30pm)
Closed holidays.

Tours are self guided except for educational programs. School and group visits are by appointment only. Please call the site at (914) 965-4027 for more information. Please visit the Education section to learn more.

Group tours: Year-round, by appointment.
Fees & Rates
Most New York State Parks charge a vehicle use fee to enter the facility. Fees vary by location and season. A list of entry fees and other park use fees is available below. For fees not listed or to verify information, please contact the park directly.
The easy-to-use Empire Pass card is $80- and your key to all-season enjoyment with unlimited day-use entry at most facilities operated by State Parks and the State Dept. of Environmental Conservation including forests, beaches, trails and more. Purchase online or contact your favorite park for more information. Learn more about our Admission Programs including the Empire Pass.
Admission
Adults $5
Seniors/Student - $3
Children under 12, free.
Please Inquire for group tours and school group rates.
Group (10+): $3
Community Gallery-Free admission
Educational Programs
$1-3/student on-site, depending on the program
$50/presentation/hr off-site
Special Events
Vary according to the program. Call site for details.
Philipse Manor Hall State Historic Site invites your class to learn about the Manor Hall and its place in history!
Please see our education brochure for descriptions of the education programs offered.
Tours are self-guided and can be taken any time during the museum's hours of operation.
Saturday Guided Tours
Like your tours with a more personal touch? Accompany us on a private museum tour with one of our knowledgeable docents, Saturdays at 12pm between May and September. $5 for adults, $3 for seniors and students. Free for Friends members and for children 12 and under.
Holiday Tours
Tuesday-Saturday at 2:00pm from Dec. 4 to Dec 30th, No tours on Dec. 6 or 9.
Come learn about the way the different eras of the Philipse family observed during the holidays during the first generation in the 1680's to the last generation in the 1760's. Discover the historical origins of many of our modern holiday traditions and decorations, while enjoying the multi-generational decorations done by Morsemere Garden Club and learning about the history of the Manor Hall. $5 for adults, $3 for seniors and students. Free for children 12 and under.
The George and Mary Tour
Saturday, April 24, 2021 01:00 PM - 02:00 PM
Philipse Manor Hall State Historic Site
(914) 965-4027
Mary Calvi's 2019 novel Dear George, Dear Mary, reignited the discussion surrounding the potential relationship between George Washington and Mary Philipse. Once written off and forgotten to history, Calvi's research shined a light on how much of a role Yonkers, the Philipse family and the daughter of a prominent Loyalist had on pre-Revolutionary War America, including impacting Washington's heart. Join us on a guided tour as we explore the narratives surrounding their relationship and lasting results that potentially altered two countries futures! $5 for adults, $3 for seniors and students. Free for Friends members and for children 12 and under. Spaces are limited and all guest must follow COVID-19 regulations. Reservations are encouraged and can be made at 914-965-4027. Private tours are available as well.
1:00 PM-2:00 PM | Location: Yonkers | $5 | Ages: All Ages