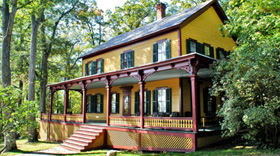 It was in Joseph W. Drexel's Adirondack cottage that General Ulysses S. Grant died of throat cancer on July 23, 1885. President Grant arrived at the cottage on June 16, 1885, with a large entourage of family, friends, servants, and physicians in order to complete his memoirs. He died just four days after his final proofreading.
Today, the cottage and its furnishings remain essentially the same as during the Grant family's stay for six weeks in 1885. Guests to the cottage may visit the spacious porch, tour the cottage's four rooms, and view floral arrangements that remain from Grant's August 4th funeral.

There is also a short path to the Eastern Outlook, which commands a spectacular view of the Hudson Valley, from the Adirondacks in the north, the Green Mountains of Vermont to the east, and the Catskills to the south. Grant Cottage State Historic site was established in 1957 and is owned by the State of New York. It is operated by The Friends of the Ulysses S. Grant Cottage.
Cottage Porch Chats are held Wednesdays at noon periodically throughout the season. Please check out the Friend's website for details.
Mailing Address
P.O. Box 2294Wilton, NY 12831
Hours of Operation
Memorial Day Weekend through Labor Day: Wednesday-Sunday

Labor Day though Columbus Day: Saturday-Sunday only

Gates Open at 9:30 a.m. Tours begin at 10 a.m. Last tour at 3:30 p.m. Gates Close at 4 p.m.
Fees & Rates
Most New York State Parks charge a vehicle use fee to enter the facility. Fees vary by location and season. A list of entry fees and other park use fees is available below. For fees not listed or to verify information, please contact the park directly.
The easy-to-use Empire Pass card is $80- and your key to all-season enjoyment with unlimited day-use entry at most facilities operated by State Parks and the State Dept. of Environmental Conservation including forests, beaches, trails and more. Purchase online or contact your favorite park for more information. Learn more about our Admission Programs including the Empire Pass.
If you have a class of less than 30 students, we invite you to consider a trip to Grant Cottage. These school visits are free of charge to students and teachers.

Please consider a visit by one of our staff to your classroom before you come to the cottage. An introduction which explains the importance of visits to the cottage in 1885 will allow students to create a character from that time period and prepare to relive a moment on the porch when calling cards were delivered to a greiving member of the Grant family.

At the visitor center a short 20 minute film will explain Grant's trip to the cottage in 1885 and prepare students to walk the same path used by the 18th preseident and Civil War hero, Ulysses S. Grant. From the overlook students can see the landscape that Grant enjoyed.\\

For more information about this opportunity contact: harriettfinch@aol.com