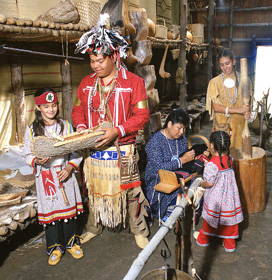 KNOW BEFORE YOU GO: When group tours are scheduled, the site will temporarily close in order to adhere to current capacity limits.
Ganondagan State Historic Site located in Victor, NY is a National Historic Landmark, the only New York State Historic Site dedicated to a Native American theme (1987), and the only Seneca town developed and interpreted in the United States. Spanning 569 acres, Ganondagan is the original site of a 17th century Seneca town which existed there peacefully more than 350 years ago. The culture, art, agriculture, and government of the Seneca people influenced our modern understanding of equality, democratic government, women's rights, ecology and natural foods.
Ganondagan's full-size Seneca Bark Longhouse (1998) is fully furnished to reflect a typical Seneca family from the late 1600's, complete with reproductions of 17th century Seneca objects and colonial-era trade goods.
The newly built Seneca Art & Culture Center (2015) at Ganondagan State Historic Site is a 17,300-square-foot center that tells the story of Haudenosaunee (Iroquois) contributions to art, culture, and society. Designed to fit into the natural landscape, the center features an interactive, multi-media Exhibit Gallery, including a changing exhibit space, Orientation Theater (featuring the Iroquois Creation Story film), auditorium, and gift shop.
The grounds surrounding the center include two signed interpretive trails that educate visitors about the significance of plant life, Haudenosaunee culture and history. A third trail just a mile away from the center, interprets the history and the importance of Fort Hill, a large palisaded granary.
Visit www.ganondagan.org for more information.
** Inset Picture from: Democrat and Chronicle, Rochester, New York.
Mailing Address
P.O. Box 239 Victor, NY 14564
Hours of Operation
Seneca Art & Culture Center Hours:

Wednesday-Saturday, 9:00am - 4:00pm. Closed mid-Jan through mid-Feb, please call site for details.



Seneca Art & Culture Center Gallery Hours

Wednesday-Saturday, 9:00am - 4:00pm. Closed mid-Jan through mid-Feb, please call site for details.

Groups by reservation two weeks in advance.
Bark Longhouse:
May 1 - October 31: Wednesday-Saturday, 10:00am - 4:00pm.

Fees & Rates
Most New York State Parks charge a vehicle use fee to enter the facility. Fees vary by location and season. A list of entry fees and other park use fees is available below. For fees not listed or to verify information, please contact the park directly.
The easy-to-use Empire Pass card is $80- and your key to all-season enjoyment with unlimited day-use entry at most facilities operated by State Parks and the State Dept. of Environmental Conservation including forests, beaches, trails and more. Purchase online or contact your favorite park for more information. Learn more about our Admission Programs including the Empire Pass.
General Admission

Adults - $8
Seniors - $4
Students (12 yrs. - College) - $4
Children (5 - 11 yrs.) - $2
Children (birth - 4yrs.) - Free

Winter Fees (November 1 - April 30) Seneca Art & Culture Center only. Seneca Bark Longhouse is closed during winter.

Adults - $6
Seniors - $3
Students (12 yrs. - College) - $3
Children (5 - 11 yrs.) - $1
Children (birth - 4yrs.) - Free
Maps
Deer hunting (archery only) is permitted in season. Reference the NYS DEC Hunting and Trapping Guide for current dates and rules for archery hunting.
Note: Archery deer hunting is allowed at Ganondagan State Historic Site from dawn to 9:00 am only. Permits can be obtained from the visitor center in the afternoon of the day prior to hunting.
No permanent tree stands are permitted. Removable tree stands are allowed as long as they are removed when finished hunting for the day.
For additional information, please contact Ganondagan State Historic Site at: (585) 924-5848