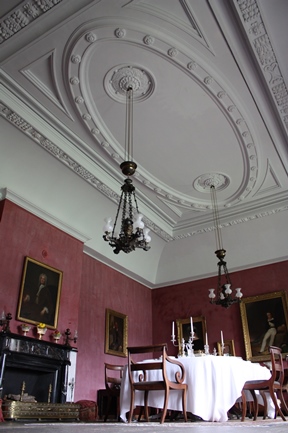 KNOW BEFORE YOU GO: Hyde Hall is committed to your safety by:
1. Requiring reservations for all visitors and groups.
2. Mandating masks/face covers for all visitors regardless of vaccination status.
3. Limiting tour sizes to eight individuals in the mansion at a time.
4. Maintaining safe physical distancing.
5. Continuing increased disinfection and sanitation.
Hyde Hall, built on the shores of Otsego Lake by George Clarke (1768-1835), was to be a showplace at the center of his agricultural empire that included vast tracts of land in New York State, England, and Jamaica. He commissioned Philip Hooker of Albany, whose credits included the original New York State Capitol, Albany City Hall, and the facade of Hamilton College's chapel, to draw up plans for his grand house.
Clarke created a country estate reminiscent of his childhood in England in the middle of New York State. Seasonal building campaigns took place until Clarke's death in 1835. Hyde Hall was possibly the largest domestic structure built in the United States between the Revolutionary and Civil Wars. Hyde Hall remained in the Clarke family until 1963, when the house and its acreage were acquired by New York State for the development of Glimmerglass State Park.
Visitors to Hyde Hall are welcome to explore its nearly 50 rooms, view ongoing restoration work, and picnic on the lawn and take in the unspoiled view of Otsego Lake.
Mailing Address
P.O. Box 721Cooperstown, NY 13326
Hours of Operation
Open for guided tours May 25 - October 31 beginning at 10:00 am.  Last tour departs at 3:00 pm.


Fees & Rates
Most New York State Parks charge a vehicle use fee to enter the facility. Fees vary by location and season. A list of entry fees and other park use fees is available below. For fees not listed or to verify information, please contact the park directly.
The easy-to-use Empire Pass card is $80- and your key to all-season enjoyment with unlimited day-use entry at most facilities operated by State Parks and the State Dept. of Environmental Conservation including forests, beaches, trails and more. Purchase online or contact your favorite park for more information. Learn more about our Admission Programs including the Empire Pass.