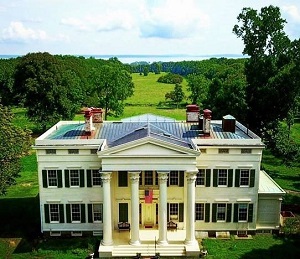 The 23-acre Jay Estate in Rye is one of two family homes of American founding father John Jay (1745-1829) located in Westchester. Jay was a noted jurist, peacemaker, governor and anti-slavery advocate. The site, which overlooks Long Island Sound is part of the Boston Post Road Historic District, a National Historic Landmark and a stop on Westchester County's African American Heritage Trail. It is also one of 100 top attractions in the Hudson River Valley National Heritage Area.
The Jay Estate has three owners: 21.5 acres have been owned by New York State Parks in conjunction with Westchester County Parks since 1997. The not-for-profit organization, the Jay Heritage Center (JHC) owns the 1838 Greek Revival mansion, and 1.5 acres of land around it. The 1907 Van Norden Carriage House is a second building being restored by JHC; it serves as the Jay Estate Visitor and Education Center.
Under a 2013 agreement, the Jay Estate is managed by JHC for New York State and Westchester County as dedicated parkland. It is used for recreation and hosts programs about American history, social justice, architecture and conservation. The restoration of historic gardens and a 1917 Tennis House are ongoing projects and when finished will be exciting resources for the public.
For hours of operating and other visiting information, please visit: jayheritagecenter.org