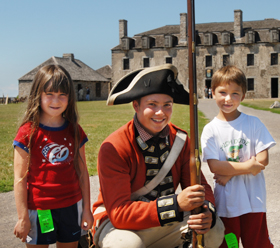 The history of Old Fort Niagara spans more than 300 years. The fort was occupied by three nations: France, Great Britain, and the United States. Old Fort Niagara, located at the mouth of the Niagara River, controlled access to the Great Lakes and the westward route to the heartland of the continent. Visitors to the fort today will see the oldest buildings in the Great Lakes region, living history programs, exhibits, and special events.The French established the first post in 1679 and built the impressive "French Castle" in 1726. It still stands today. Britain gained control of the fort in 1759 during the French and Indian War and maintained control throughout the American Revolution, yielding it to the United States in 1796. The fort was captured by the British during the War of 1812 until being ceded again to the United States in 1815 after which time it served as a peaceful border post. Old Fort Niagara served as a training station and active barracks from the Civil War until the last army units were withdrawn in 1963.

Reminder: The Every-Kid-in-a-Park Pass is not accepted at this location
Mailing Address
P.O. Box 169Youngstown, NY 14174
Fees & Rates
Most New York State Parks charge a vehicle use fee to enter the facility. Fees vary by location and season. A list of entry fees and other park use fees is available below. For fees not listed or to verify information, please contact the park directly.
The easy-to-use Empire Pass card is $80- and your key to all-season enjoyment with unlimited day-use entry at most facilities operated by State Parks and the State Dept. of Environmental Conservation including forests, beaches, trails and more. Purchase online or contact your favorite park for more information. Learn more about our Admission Programs including the Empire Pass.
Admission

Adults: $17
Child age 6-12: $12
Child 5 and under: Free
Senior and AAA rates: $16/adult, $11/child


Group rates are available for groups of 12 or more individuals. Please contact Old Fort Niagara at 716-745-7611 for more information.



The Connect Kids Every-Kid-in-a Park pass does not apply to Old Fort Niagara State Historic Site