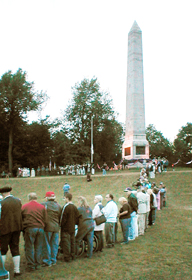 Considered to be a significant turning point in the Revolutionary War, the Battle of Oriskany, fought on August 6, 1777, has been described as one of its bloodiest battles. While the British were attacking Fort Stanwix in August 1777, Brigadier General Nicholas Herkimer assembled 800 militiamen, supported by 60 allied Oneida warriors, and marched from Fort Dayton to aid against the siege. Upon hearing of Herkimer's advance, British and Loyalist troops under Sir John Johnson and Col. John Butler, and Native American forces led by Mohawk Joseph Brant, ambushed the American troops in a ravine west of Oriskany Creek. The patriots fought in brutal hand-to-hand combat, and despite heavy losses, caused their opponents to retreat. General Herkimer received a wound to his leg which led to his death ten days later. The Oneidas were the only Haudenosaunee nation to side with the Americans and it is that famous battle that cemented their legacy as America's First Allies.
A monument was dedicated on August 6, 1884, to serve as a memorial to those who fought so bravely and tenaciously to preserve freedom. Oriskany Battlefield was designated a New York State historic site in 1927. In recognition of the site's exceptional historic value, the battlefield was designated a National Historic Landmark in 1963. Visitors to the battlefield are invited to walk the site and view the monument, interpretive signs, and visitor center exhibit.
NOTE: Oriskany Battlefield is managed in partnership with the National Park Service at Fort Stanwix National Monument.
Mailing Address
17 Rippleton RoadCazenovia, NY 13035
Hours of Operation
Open Dates: May 27 through September 4, 2023.

Open Days: Wednesdays through Sundays & Monday holidays

Hours: 10:00AM-4:30PM

Activities: Visitor Center Open & Guides Available

Grounds open daily, dawn until dusk, with outdoor signage available

Admission is free.



Maps