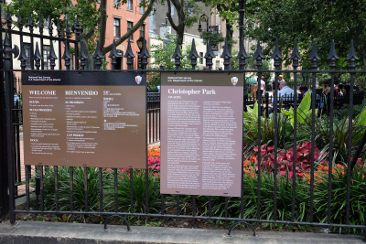 Stonewall National Monument is a new national park unit located in Christopher Park, part of New York City's Historic Greenwich Village. The Stonewall Inn National Monument sits across the street from The Stonewall Inn, a National Historic Landmark. The Stonewall Inn itself exists as a private establishment and working bar. On June 24th 2016, The Stonewall Inn was designated a State Historic Site. Learn more.

For more information visit: The Stonewall Inn National Monument
Christopher Park is open daily from approximately 9 am to dusk.

History of the Stonewall Inn
The events that began at the Stonewall Inn in June 1969 marked a monumental change for lesbian, gay, bisexual and transgender (LGBT) Americans. Through much of American history LGBT citizens suffered from bigotry and widespread discrimination, affecting employment, housing, social life, and almost all facets of everyday life. Even into the 1960s, most gays were closeted for fear of violent repercussions should their sexual orientation become known.
In the late 1960s, it was illegal in New York for bars to serve anyone known or suspected of being gay, and police regularly raided gay establishments. Nevertheless, despite repeated raids, bars such as the Stonewall Inn, on Christopher Street in Greenwich Village, offered a respite where gays could meet and socialize with some degree of safety.
On June 28, 1969, the police raided the Stonewall Inn. This time, however, bar patrons and a crowd outside resisted, chanting, throwing beer cans, pennies and other objects, until police were forced back into the bar. Over the next few nights, additional confrontations occurred outside the Stonewall, in nearby Christopher Park, and on adjacent streets.
This rebellion proved a major catalyst for self-awareness among LGBT Americans and precipitated decades of social change, leading to such reforms as marriage equality and the right of gays to serve openly in the military.
The Stonewall Inn is an international symbol of the fight for equality for LGBT Americans. In 1999, the Stonewall Inn and surrounding site was the first property in the United States listed on the National Register of Historic Places for its association with LGBT civil rights.
Mailing Address
26 Wall Street, Federal Hall National Monument c/o Stonewall National Monument New York , NY 10005