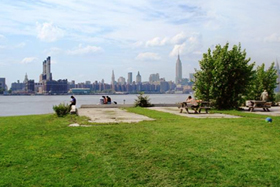 On February 1, 2020, the park was renamed in honor of Marsha P Johnson, a transgender woman of color who was a pioneer of the LGBTQ civil rights movement and a prominent figure in the Stonewall Uprising.
Marsha P. Johnson State Park is a seven-acre waterfront park located along the East River in the Williamsburg neighborhood of Brooklyn. It offers visitors a stunning view of the Manhattan skyline, a delightful play area, and the green space provides many opportunities for recreation and relaxation. As the site of a 19th century shipping dock, visitors to East River may also discover unique historical remnants like old cobblestone streets and railroad tracks embedded in concrete. Historic interpretive signs are provided for your convenience. The park preserves and protects the many natural and historical resources along this beautiful city waterfront. The park is free and open to the public.
In addition to the great views of the East River and Manhattan, the park offers native meadow plantings among the historic rail yard remnants; passive recreation; picnicking and barbecues.
Pet Policy: The park features a dog run.
Hours of Operation
Open year round. Dawn to dusk.
Fees & Rates
Most New York State Parks charge a vehicle use fee to enter the facility. Fees vary by location and season. A list of entry fees and other park use fees is available below. For fees not listed or to verify information, please contact the park directly.
The easy-to-use Empire Pass card is $80- and your key to all-season enjoyment with unlimited day-use entry at most facilities operated by State Parks and the State Dept. of Environmental Conservation including forests, beaches, trails and more. Purchase online or contact your favorite park for more information. Learn more about our Admission Programs including the Empire Pass.
Picnic Permit
$30 picnic permit prosessing fee plus:
$0 up to 25 persons
$65 26-50 persons
$115 51-100 persons
$550 Commercial, up to 100 persons, 3 hours
Additional Documents