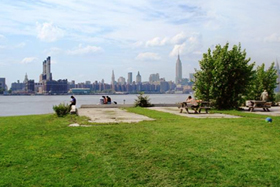 On February 1, 2020, the park was renamed in honor of Marsha P Johnson, a transgender woman of color who was a pioneer of the LGBTQ civil rights movement and a prominent figure in the Stonewall Uprising.
Marsha P. Johnson State Park is a seven-acre waterfront park located along the East River in the Williamsburg neighborhood of Brooklyn. It offers visitors a stunning view of the Manhattan skyline, a delightful play area, and the green space provides many opportunities for recreation and relaxation. As the site of a 19th century shipping dock, visitors to East River may also discover unique historical remnants like old cobblestone streets and railroad tracks embedded in concrete. Historic interpretive signs are provided for your convenience. The park preserves and protects the many natural and historical resources along this beautiful city waterfront. The park is free and open to the public.
In addition to the great views of the East River and Manhattan, the park offers native meadow plantings among the historic rail yard remnants; passive recreation; picnicking and barbecues.
Pet Policy: We welcome your dogs to the MPJ Dog Run on Kent Avenue and North 9th Street. Dogs are not permitted in any other area of the park. Please help us by keeping your furry friends limited to the Dog Run.
Fees & Rates
Entrance to Marsha P. Johnson State Park is free and all public programming and amenities are free of charge.
Additional Documents