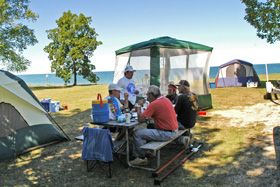 Lakeside State Park offers an outstanding panoramic view of Lake Ontario and surrounding farms and fruit orchards. No swimming is allowed, but 274 campsites, four miles of hiking and biking trails, fishing along the lake front, picnic grounds, a disc golf course and playing fields bring thousands to the park. Winter activities include hiking, cross-country skiing and snowmobiling.
Lakeside State Park has a 18-hole disc golf course dubbed the Shore Winds Disc Golf Course. This well-designed course is both challenging while providing one of the most scenic views of any disc golf course in the United States.
Musical Performance, Tent, Caterer and Alcohol Permits

Tent and Trailer Camping 2021: Information and Rules
Pavilion Information
Lakeside State Park has one pavilion. Prices range from $50 to $100 and can accommodate up to 96 people. Check availability at ReserveAmerica.com
Shelter Information - Reservation Fee: $7.25
Pet Policy: A maximum of two pets are allowed in campsites and day use areas unless prohibited by sign or directive. Pets are to be supervised at all times and either be crated or on a leash not more than 6-feet in length. Proof of rabies inoculation shall be produced if requested by staff. Pets are not permitted in playgrounds, buildings, golf courses, boardwalks, pools and spray-grounds or guarded beaches (this does not apply to service animals).
Hours of Operation
Daily hours are from dawn to dusk.
2021 Camping Season: 4/30 - 10/17
Camp Office Hours after Labor Day:

Sunday - Wednesday: 10am - 5pm

Sundays of holiday weekends: 10am - 7pm

Thursdays: 10am - 7pm

Thursdays of holiday weekends: 10am - 8pm

Fridays: 10am - 8pm

Saturdays: 10am - 7pm

Shelters: Available 5/1 - 10/15, 9 am - 3 pm or 4 pm - 10 pm.
Half day rental only Mon - Fri, excluding holidays.
Waterfowl hunting is permitted in season.
Disc Golf is available year-round
Fees & Rates
Most New York State Parks charge a vehicle use fee to enter the facility. Fees vary by location and season. A list of entry fees and other park use fees is available below. For fees not listed or to verify information, please contact the park directly.
The easy-to-use Empire Pass card is $80- and your key to all-season enjoyment with unlimited day-use entry at most facilities operated by State Parks and the State Dept. of Environmental Conservation including forests, beaches, trails and more. Purchase online or contact your favorite park for more information. Learn more about our Admission Programs including the Empire Pass.
Maps
Firewood source maps show a 50-mile radius from which untreated firewood may be moved to this campground. For more information see firewood restrictions.
Highlights of Lakeside State Park:
Johnson Creek runs through the southwestern corner of the park and is home to various aquatic and semi-aquatic macro-invertebrates and amphibians, such as crayfish, mayfly larvae, and Spotted Salamanders. If you decide to look for any of these species, take care to cautiously turn over rocks and place them as you found them so as not to disturb any creatures underneath.
The shrubland habitat in the western portion of the park is an excellent place for birding especially during the fall and spring migratory periods.
Wetlands along Siren Creek provide habitat for interesting native flowers such as Cardinal Flower and Lizards-tail.What will you see? Plan your visit today!
What will you see? Plan your visit today!
Look and listen for these birds at our Park:
Everyone is a Steward: Be a Lakeside State Park Hero!
Know the rules and concerns for the area you'll be visiting.
Use a map and compass instead of flagging, rock cairns, or marking paint.
Hike and camp on established, durable trails and campsites.
Leave all natural objects as you find them.
Be careful with your fire.
Respect wildlife and observe from a distance.
For more information, please read our Trail Tips!
Ask a Naturalist!
Q: What can you tell me about the shoreline of Lake Ontario?
A: The shoreline provides a rich, active habitat for fish and wildlife, helps filter storm water runoff before it enters the water, and provides structural integrity to the water's edge. Shoreline erosion is a natural process caused by a number of factors such as storms, wave action, ice, wind, runoff, and loss of vegetation.
Q: What types of fish could I catch when fishing in Lake Ontario?
A: When fishing in Lake Ontario, you could catch lake trout, lake whitefish, yellow perch, smallmouth bass, Coho salmon, burbot, Chinook salmon, brown trout, rainbow trout, walleye, Atlantic salmon, alewife, of rainbow smelt.
Q: How far is it from one side of the lake to the other side?
A: Lake Ontario at its widest is 53 miles wide - from Lakeside State Park to the other side is less than that.
Did You Know?
- DID YOU KNOW? The Lake Ontario State Parkway was originally opened as a route linking Hamlin Beach State Park to NY 261 in the early 1950s. In the 1970s, the section between Lakeside and Hamlin Beach State Parks was completed. The Parkway now begins in Rochester suburbs and ends at Lakeside State Park.
- DID YOU KNOW? In Huron language, "Ontario" means "Lake of Shining Waters."
- DID YOU KNOW? Lake Ontario is the only Great Lake that does not share a shoreline with the state of Michigan.
Waterfowl Hunting Only (During established seasonal periods)
Hunting area on map is located along the shoreline west of the picnic area. This is along the shoreline only shooting over Lake Ontario. Vehicles must park in picnic parking lot only, not on park service roads. Must have current and proper hunting license. No permanent or temporary blinds allowed. Permit Required.