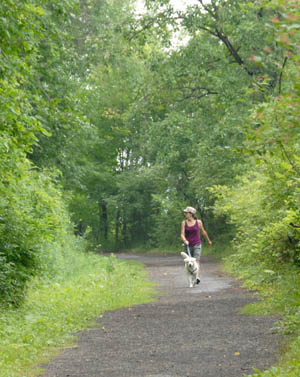 Buckhorn Island State Park nature preserve, 895 acres of marsh, meadows and woods and the last vestige of once vast marshlands and meadows that bordered the Niagara River, is classified as a park preserve. The public is welcome to walk the nature trails, hike, bike, kayak, canoe, fish and cross-country ski in the park. Ongoing restoration continues to re-establish wetland cover and water levels and increase the diversity of native flora and fauna. The ongoing restoration plan includes increasing public access with more non-intrusive trails, overlooks and bird watching blinds.
Reminder: There are no restroom facilities available at Buckhorn Island State Park.
NYS DOT Traffic Counts for Grand Island
Pet Policy: A maximum of two pets are allowed in day use areas unless prohibited by sign or directive. Pets are to be supervised at all times and either be crated or on a leash not more than 6-feet in length. Proof of rabies inoculation shall be produced if requested by staff. Pets are not permitted in playgrounds, buildings, golf courses, boardwalks, pools and spray-grounds or guarded beaches (this does not apply to service animals).
Hours of Operation
Open daily, year round, from dawn to dusk.
Maps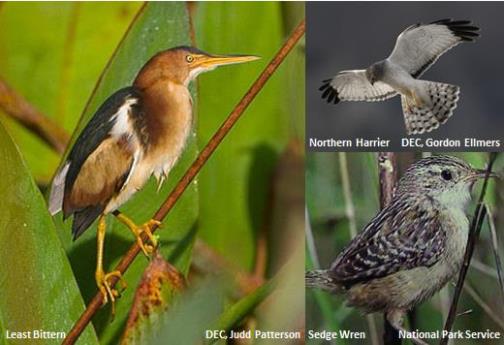 Key BCA Criteria:
- Migratory concentration site
- Waterfowl concentration site
- Diverse species concentration site
- Species at risk site
- Bird research site
The Buckhorn Island BCA is within the Niagara River corridor, and is crossed by a heavily traveled international highway, which makes the marsh one of the state's most visible wetlands and a highly visible site for demonstrating wetland restoration. Its ecological position as one of the two largest remaining marshes on the Niagara River necessitates proper stewardship. The area is a significant concentration area for large numbers and diverse species of gulls. Buckhorn Island will continue to support gull populations, as well as a diverse waterfowl population.
The marsh at Buckhorn provides important nesting habitat for listed species such as Least Bittern, Northern Harrier and Sedge Wren. The marsh serves as a feeding, resting and breeding area for ducks, coots, moorhens, and rails. Common Tern find suitable habitat for foraging here.Listed species include Northern Harrier (threatened), Common Tern (threatened), Sedge Wren (threatened) and Least Bittern (threatened). Additional birds of interest include a variety of species of ducks, herons, coots, moorhens, and rails. Spring and fall migrations along the Niagara River corridor can bring large numbers of gulls (several species) to this site.
Download a copy of the BCA map.
West River Shoreline Trail Waterfowl Hunting Access Information
The water fowl season runs from Oct 27 through the end of January.
In order to secure a blind along the West River Trail, we hold regular lotteries to assign blinds.
We have divided West River Shoreline Trail into seven, color coded zones.
Those that secure a spot in any of the West River zones will also be given a vehicle permit—as well as directions on how they can enter and exit their zone. The permit should match the color of the zone.
Vehicles will park along off the pathway.
All traffic will head south—entering and exiting at set intersections on the trail—there will be no two way traffic.
Barricades will be set up at each entrance and exit and hunters will be responsible for moving them.
Drivers will be expected to drive with flashers and no faster than 15 miles per hour.
Trail users always have the right away