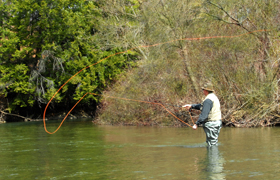 Robert V. Riddell State Park offers more than 2,000 acres of fields and forested woodlands located in the Susquehanna River Valley. The park is named for Robert V. Riddell of Coliersville who believed that we are caretakers of the land and that we should pass it on, undeveloped to future generations.
The park spans three townships and two counties and is easily accessible, straddling I-88 in Otsego County. It is approximately 20 miles from Cooperstown, home of the Baseball Hall of Fame.
The park offers a variety of family-friendly passive recreational opportunities. As part of an extensive statewide trail network, it is a preferred destination for hikers and other outdoor enthusiasts. Additional activities include bird-watching, snowshoeing and fishing.
Schenevus Creek, a Class A trout stream which leads to the Susquehanna River, crosses the north side of the park. This land was formerly cultivated for agricultural purposes. Hiking trails allow visitors to explore the wooded southern portion of the park.
Learn more about the trees species at this park: Tree Identification Trail


Pet Policy: A maximum of two pets are allowed in day use areas unless prohibited by sign or directive. Pets are to be supervised at all times and either be crated or on a leash not more than 6-feet in length. Proof of rabies inoculation shall be produced if requested by staff. Pets are not permitted in playgrounds, buildings, golf courses, boardwalks, pools and spray-grounds or guarded beaches (this does not apply to service animals).
Mailing Address
c/o Gilbert Lake State Park
18 CCC RoadLaurens, NY 13796
Hours of Operation
Day use only - Dawn until Dusk
Maps

New! Download this park's digital map to your iOS Apple and Android device.
No hunting is allowed at this facility, but a person may possess an unloaded weapon for the purpose of accessing adjacent properties for lawful hunting purposes.