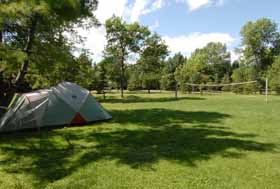 Glimmerglass State Park, located eight miles outside the village of Cooperstown, overlooks Otsego Lake, the "Glimmerglass" of James Fenimore Cooper's Leatherstocking Tales. The rolling, partially-wooded terrain is host to a wide variety of wildlife. An uphill trail through the forest affords a spectacular view of Otsego Lake; the Beaver Pond and Woodland trails are picturesque and of interest for the variety of wildflowers, shrubs, ferns and mosses.
The Hyde Hall Mansion, Covered Bridge, and a self-guided Beaver Pond Nature Trail are within park boundaries and open to visitors. Winter visitors can go tubing, cross-country skiing, ice skating, snowshoeing, ice fishing, winter hiking.
Pavilion Information
Glimmerglass has three pavilions. Prices range from $75 to $200 and can accommodate 65 to 200 people. Check availability at ReserveAmerica.com
Current Water Quality - Beach Results.
Pet Policy: A maximum of two pets are allowed in campsites and day use areas unless prohibited by sign or directive. Pets are to be supervised at all times and either be crated or on a leash not more than 6-feet in length. Proof of rabies inoculation shall be produced if requested by staff. Pets are not permitted in playgrounds, buildings, golf courses, boardwalks, pools and spray-grounds or guarded beaches (this does not apply to service animals).
Hours of Operation
Open year-round.

2021 Swimming Season:

Daily from 11 a.m. to 7 p.m. through Labor Day.




2021 Camping Season:


50 campsites, 6 people max, minimum 2 night stay.

Cottages available Memorial Day to Columbus Day.

Primitive Camping: Mid May to Columbus Day. Currently closed for season.

All reservations must be made through reserveamerica.com or 1-800-456-2267

Park Office Hours:
In season: Late May - Labor Day.
8:00 am to 8:30 pm daily

Off season: Monday - Friday, 7 a.m. - 3:30 p.m.
Snowtubing: Continue to check site for updates.
Shelter/Tent Rentals:
Available for reservation, mid-May to Columbus Day, 9:00 a.m. to sunset. Reservations can only be made through reserveamerica.com or call 1-800-456-2267.

West Shelter, capacity 100-200
Lakeview Shelter, capacity 100
Beachfront Shelter, capacity 65
Tents (3), capacity 40 each

Boat Launching:
Available a short distance from the parking area for personal non-motorized boats.
Fees & Rates
Most New York State Parks charge a vehicle use fee to enter the facility. Fees vary by location and season. A list of entry fees and other park use fees is available below. For fees not listed or to verify information, please contact the park directly.
The easy-to-use Empire Pass card is $80- and your key to all-season enjoyment with unlimited day-use entry at most facilities operated by State Parks and the State Dept. of Environmental Conservation including forests, beaches, trails and more. Purchase online or contact your favorite park for more information. Learn more about our Admission Programs including the Empire Pass.
Beach/Swimming
Included in day use/vehicle entry fee. Closed for the season.
Camping
$15-$25 per night




Primitive Camping: Closed for the season.
Sun - Thurs. $12

Fri, Sat and Holidays. $16

*Additional $5 per night for out-of-state patrons.

Snow Tubing (Winter only)
Snow Tubing Continue to check site for updates.
Vehicle Entrance Fee
Cars: $7 Daily (June 19th to Labor Day)
Non-Commercial Bus Fee: $35
Commercial Bus Fee: $75
Seasonal Bus Permit: $75
Maps

New! Download this park's digital map to your iOS Apple and Android device.
Firewood source maps show a 50-mile radius from which untreated firewood may be moved to this campground. For more information see firewood restrictions.
First Day Hike
Saturday, January 1, 2022 10:00 AM - 04:00 PM
Glimmerglass State Park
(607) 547-8662
One mile self-guided hike through the woods and along the shoreline of Otsego Lake. The trail is a loop and returns to the parking lot. Hike starts at 10 a.m. and the first 100 people will receive the First Day Hike giveaway! The free hike closes at Dusk. Bathrooms are limited, so please plan accordingly. A Porta Jon will be located at Beaver Pond. No minimum age and leashed pets are welcome! Meet up at Sleeping Lion Trail Head near Hyde Hall. Trail might be covered in ice, snow or snow pack. Wear appropriate footwear/snowshoes for the conditions. Hiking/ski pole might be beneficial for balance.