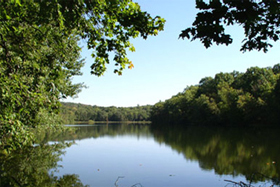 Highland Lakes State Park consists of more than 3,000 acres of undeveloped woods and lakes in Orange County. Visitors use the park for fishing, hiking, horseback riding and flying model planes.
Park is undeveloped. There are no toilets and there is limited parking. Bridle Path by permit only.
Dogs must be on a leash not more than 6 feet. Not allowed in buildings, picnic or bathing areas or on walkways.
Horses are permitted with permit only. The permits are issued at the Minnewaska State Park office.
Mailing Address
c/o Palisades Interstate Park Commission - Admin. Bldg.Bear Mountain, NY 10911
Highland Lakes offers archery deer hunting only, Monday thru Friday, in designated locations.