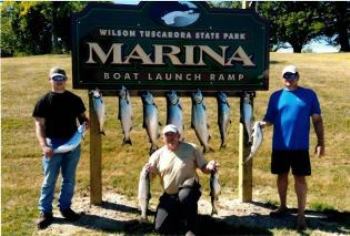 Ladders to the Outdoors - programming and activities connecting Western New York youth with the outdoors
Wilson-Tuscarora State Park is a well-preserved natural area for many varieties of plants and wildlife, encompassing 476.5 acres of mature woods, open meadows and marshland. Tuscarora Bay, divided from Lake Ontario by a strip of land called "The Island," has a boat launch and emergency storm shelter docks. The park's four-mile nature trail is also used for hiking, snowshoeing and cross-country skiing. Fishing for many varieties of pan fish and game fish, from boats or from shore, is extremely popular. Picnickers can enjoy scenic views of the lake while children play in the playground.
Pavilion Information
Wilson Tuscarora has six pavilions. Prices range from$50 to $100 and can accommodate 36 to 126 people. Check availability at ReserveAmerica.com.
Current Water Quality - Beach Results
Pet Policy: A maximum of two pets are allowed in day use areas unless prohibited by sign or directive. Pets are to be supervised at all times and either be crated or on a leash not more than 6-feet in length. Proof of rabies inoculation shall be produced if requested by staff. Pets are not permitted in playgrounds, buildings, golf courses, boardwalks, pools and spray-grounds or guarded beaches (this does not apply to service animals).
Mailing Address
3371 Lake Road Wilson, NY 14172
Fees & Rates
Most New York State Parks charge a vehicle use fee to enter the facility. Fees vary by location and season. A list of entry fees and other park use fees is available below. For fees not listed or to verify information, please contact the park directly.
The easy-to-use Empire Pass card is $80- and your key to all-season enjoyment with unlimited day-use entry at most facilities operated by State Parks and the State Dept. of Environmental Conservation including forests, beaches, trails and more. Purchase online or contact your favorite park for more information. Learn more about our Admission Programs including the Empire Pass.
Maps

New! Download this park's digital map to your iOS Apple and Android device.
Hunting Permit & Questionnaire
Hunting Map
Duck Blind Permit

Waterfowl hunting at Ft. Niagara, Joseph Davis, Wilson Tuscarora, and Golden Hill is by permit only during DEC & federal regulated seasons. Permits for all four parks are issued at a weekly Thursday evening draw at Ft. Niagara. Permitees are required to have a NYS hunting license, Federal HIP number, waterfowl identification certification, and a dog or boat for retrieval. Rules and restrictions from permit as follows:
All Federal and State regulations apply.
A dog or boat is required for retrieving.
Only one person per hunting group is allowed to draw at any time.
All spent shell casings and any litter must be removed at the end of the hunt.
The permittee is responsible for listing all of the blind occupants on the permit; substitutions are not allowed.
All hunters must have a NYS hunting license, HIP number, and Federal "Duck" stamp.
The permittee must have successfully completed a satisfactory Waterfowl Identification course.
All blinds must be set up within fifty (50) feet of the blind number.
The intent of this Permit is to allow shooting over water only, not over land.
First Day Hike
Monday, January 1, 2024 10:00 AM
Wilson-Tuscarora State Park
Enjoy the crisp air and winter landscape along Lake Ontario as we wander through the park. Please dress for the weather - we may be walking through areas of snow. Meet at Community Room - across from main parking lot. Registration Required on
Eventbrite.com
.