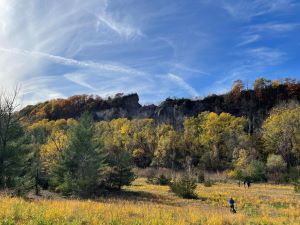 Named for 19th century African American abolitionist and suffragist Sojourner Truth, this new state park is the first state park in the City of Kingston. Sojourner Truth State Park offers spectacular views of the Hudson River, historic industrial ruins and remnants from brick making and quarrying, and diverse habitat areas including woods, wetlands, and steep cliffs and ridge line.
The park includes the paved Hudson River Brickyard Trail, part of the Empire State Trail, and hiking trails for passive recreation.
About Sojourner Truth
Born enslaved in 1797 in Esopus, Ulster County, Isabella "Bomefree" Baumfree freed herself from slavery in 1826 a year before legal enslavement ended in New York. In 1828, she won a lawsuit to regain custody of her son, who had been sold into slavery in the Deep South, marking one of the first legal cases where an African American woman prevailed in court against a white person. Following her deeply held religious views she traveled as an itinerant preacher, speaking truth to the harsh inequities endured by people of color and women while calling for systemic change. Renaming herself Sojourner Truth, she became one of the nation's leading voices for abolition and universal suffrage in the mid-19th century. During the Civil War, she recruited men for the Union Army, and worked for the Freedmen's Bureau, an agency that assisted the newly freed enslaved. After the war, she continued advocating for universal voting rights. Sojourner Truth died in 1883, after African American men had received the vote but with the national adoption of women's suffrage still four decades away.
About the land
The site is a part of the traditional homeland of the Esopus tribe of the Lenape, who inhabited the area of Kingston until the 1600s when they were displaced by European colonists. It offers spectacular views of the Hudson River and the 150-foot cliffs of limestone and sandstone that drew cement production to the site beginning in the 1840s. Once the site of cement production, brick making, quarrying, and ice harvesting, the property already includes the Hudson River Brickyard Trail. Part of the Empire State Trail and the Kingston Greenline, this paved trail opened in December 2020 as a project of the city of Kingston, which manages the trail, and Scenic Hudson.