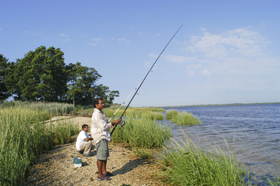 Bayswater Point State park comprises 12 acres at the tip of a peninsula jutting out into Mott Basin on the eastern shore of Jamaica Bay in the Rockaways. The park's terrain is wonderfully varied and includes beachfront, wetlands and woodlands. This diversity helps make it an ideal habitat for migrating and nesting birds. In fact, the park was once a bird sanctuary overseen by Audubon. Our goal for this lovely and peaceful park is to preserve the existing natural systems, and as feasible, restore what has been lost. Passive recreation, such as hiking, fishing, bird watching, picnicking and nature appreciation, are encouraged.
For information regarding environmental education programs at Bayswater Point , please call 212-866-3100.
Hours of Operation
Open daily, year round. Sunrise - sunset.
Activities/Features: Picnicking, Bird Watching, Trails.

Fishing in Jamaica Bay: 9 am - 7 pm, daily through September.
Fees & Rates
Most New York State Parks charge a vehicle use fee to enter the facility. Fees vary by location and season. A list of entry fees and other park use fees is available below. For fees not listed or to verify information, please contact the park directly.
The easy-to-use Empire Pass card is $80- and your key to all-season enjoyment with unlimited day-use entry at most facilities operated by State Parks and the State Dept. of Environmental Conservation including forests, beaches, trails and more. Purchase online or contact your favorite park for more information. Learn more about our Admission Programs including the Empire Pass.
Entrance
Entrance to Bayswater Point State Park is free and all public programming and amenities are free of charge.
Park Use Permits are required for the following:

- Film and photoshoots of any size.

- Reserving a picnic area.

- Gatherings of 10 or more people.

- Hosting an event of any size, including but not limited to birthday parties, catered picnics, classes, engagements, and wedding ceremonies.

For more information about Film/Photoshoot and Event Permitting, please contact Lillian Lee at Lillian.Lee@parks.ny.gov or call 212-866-3100.