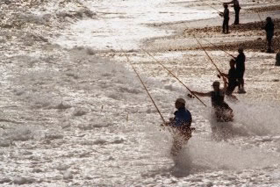 Camp Hero State Park encompasses 415 acres of diverse landscape including heavily wooded areas, a long expanse of beachfront along the Atlantic Ocean, and an historic military installation. Specific features of Camp Hero are magnificent pristine maritime forests, freshwater wetlands, spectacular ocean vistas and dramatic bluffs rising from the beach. An extensive system of trails is available for hiking, biking and horseback riding. The park boasts some of the best surf fishing locations in the world, open 24 hours a day to fishermen with permits, and areas for picnicking. An undisturbed environment shelters bountiful wildlife and an abundance of birds. The former military base that is in the park is registered as a National Historic Site. Swimming not permitted.
Pet Policy: A maximum of two pets are allowed in day use areas unless prohibited by sign or directive. Pets are to be supervised at all times and either be crated or on a leash not more than 6-feet in length. Proof of rabies inoculation shall be produced if requested by staff. Pets are not permitted in playgrounds, buildings, golf courses, boardwalks, pools and spray-grounds or guarded beaches (this does not apply to service animals).
Hours of Operation
Picnicking, hiking, surfing and bird watching: Year-round, sunrise to sunset.
Annual Sport Fishing: 4/1 - 12/31. Annual permit needed.
Fees & Rates
Most New York State Parks charge a vehicle use fee to enter the facility. Fees vary by location and season. A list of entry fees and other park use fees is available below. For fees not listed or to verify information, please contact the park directly.
The easy-to-use Empire Pass card is $80- and your key to all-season enjoyment with unlimited day-use entry at most facilities operated by State Parks and the State Dept. of Environmental Conservation including forests, beaches, trails and more. Purchase online or contact your favorite park for more information. Learn more about our Admission Programs including the Empire Pass.
Camp Hero Fishing Permit
$40 annual permit for New York State residents; $75 for out-of-state residents.
Vehicle Entrance Fee

Cars $8
Non-Profit Buses $35 (By permit only at the Babylon Office)
Commercial Buses $75

*Collected daily through Columbus Day; After Columbus Day fee is only collected on weekends, 8 AM - 4 PM, until 11/8/20
Maps

New! Download this park's digital map to your iOS Apple and Android device.
Passport to Parks
Saturday, March 20, 2021 01:00 PM
Camp Hero State Park
(631) 581-1072
Join us in our hiking series through one of the most unique Parks on the Island. Learn some of the military and natural history that makes Camp Hero so interesting. Reservations are taken two weeks prior to program date. Please call on 3/6 for reservations: 631 - 581 - 1072
Join us at our new hiking series, Passport to Parks! We will hike in a different park every month, on trails less traveled! At the hike, you will receive a "passport" booklet. For every Passport to Parks program attended, earn a sticker specific to each park for your booklet. Collect them all! This is a great opportunity to explore NYS parks on Long Island and meet your step goal, throughout the year!
Due to the Covid-19 safety parameters, space is limited. Reservations are required. Masks are mandatory. All programs are outside. $4 cash, per person.