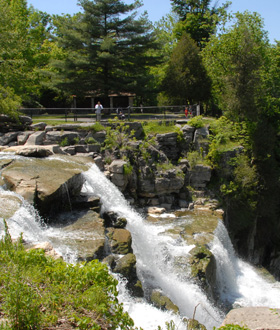 A picturesque 167-foot waterfall is the main attraction of Chittenango Falls State Park! Glacial sculpting over 400 million-year-old bedrock is responsible for this scenic feature. An interesting variety of both plants and wildlife may be found along the trails. Visitors can view the falls from the top, walk the winding trail into the gorge view the falls from the footbridge and return to the top along the small trail on the opposite side of the gorge. Activities include fishing, hiking and picnicking.
Pavilion Information
Chittenango Falls has two pavilions. Prices range from $50 to $200 and can accommodate 25 or 100 people. Check availability at ReserveAmerica.com
Pet Policy: A maximum of two pets are allowed in day use areas unless prohibited by sign or directive. Pets are to be supervised at all times and either be crated or on a leash not more than 6-feet in length. Proof of rabies inoculation shall be produced if requested by staff. Pets are not permitted in playgrounds, buildings, golf courses, boardwalks, pools and spray-grounds or guarded beaches (this does not apply to service animals).
Mailing Address
c/o Clark Reservation State Park
6105 East Seneca TurnpikeJamesville, NY 13078
Hours of Operation
Open year-round, with restrictions. Call Clark Reservation at 315-492-1756 for specifics.
Park Office Hours:
Monday through Friday, 8 am to 4 pm
Shelter Rentals:


The shelters are available for reservations beginning July 1, 2023, due to an ongoing project. We appreciate everyone's patience and understanding while these improvements take place.
Fees & Rates
Most New York State Parks charge a vehicle use fee to enter the facility. Fees vary by location and season. A list of entry fees and other park use fees is available below. For fees not listed or to verify information, please contact the park directly.
The easy-to-use Empire Pass card is $80- and your key to all-season enjoyment with unlimited day-use entry at most facilities operated by State Parks and the State Dept. of Environmental Conservation including forests, beaches, trails and more. Purchase online or contact your favorite park for more information. Learn more about our Admission Programs including the Empire Pass.
Vehicle Entrance Fee

Pay Station charges from 8am-6pm

Daily: $5/car
Non-Commercial Bus Fee: $35
Commercial Bus Fee: $75
Seasonal Bus Permit: $75



*Fees collected via automated pay station. The machine does not distribute change. It accepts coins, one dollar & five dollar bills, and credit cards. Golden Park Pass patrons can contact Clark Reservation to obtain a parking pass for display in their vehicle. Access Pass holders can also contact Clark Reservation to obtain information about using their pass at the Falls.
Maps

New! Download this park's digital map to your iOS Apple and Android device.
Firewood source maps show a 50-mile radius from which untreated firewood may be moved to this campground. For more information see firewood restrictions.