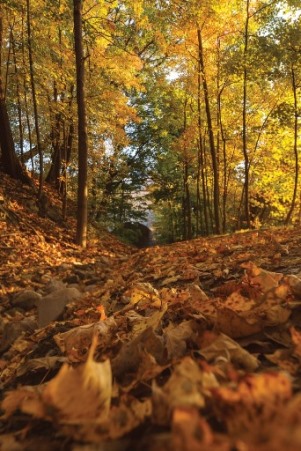 Franny Reese State Park provides an exciting place to explore nature up close. It offers over 2.5 miles of hiking and biking trails that follow a historic carriage road and passes by the ruins of a 19th century mansion. An overlook affords amazing views of the Hudson River, Mid-Hudson Bridge, Walkway Over the Hudson Historic Park, and the City of Poughkeepsie. A connecting trail links the park to the Walkway Loop Trail and Walkway Over the Hudson State Historic Park.
Scenic Hudson protected these 251 acres in 2003 and continues to manage this stunning landscape, named in memory of environmentalist Frances "Franny" Reese (1917-2003). In 2009, shortly after ownership was transferred to the Office of Parks, Recreation and Historic Preservation, the park officially opened.
Please Note: Deer ticks, which can transmit Lyme disease, are a growing problem in this area. Take precautions and check for ticks after leaving. Exercise caution when walking alone.
Opened year-round, daily, dawn to dusk
Dogs must be leashed and owner must clean up after them.
Mailing Address
Macks Lane Highland, NY 12528
Hours of Operation
Open daily year-round, dawn to dusk