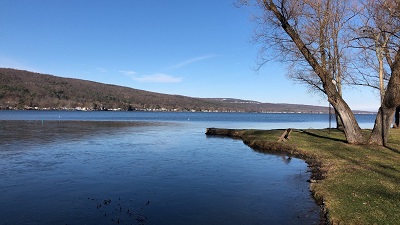 Honeoye Lake State Boat Launch is operated by Stony Brook State Park:
Stony Brook State Park (mailing address)
10820 Route 36 South
Dansville, NY 14437
(585) 335 - 8111
*Please direct any inquiries or mailings regarding Honeoye Lake State Boat Launch to Stony Brook State Park.
Honeoye Lake State Boat Launch is located at the South-East corner of Honeoye Lake, on East Lake Rd. The launch site includes a concrete ramp with two aluminum docks on each side. Docks are seasonal, from mid-April through late October. The boat launch site is open daily from sunrise to sunset. There is parking for 75 vehicles and trailers. Waterless restrooms are available, but there is no running water at the facility. Winter maintenance allows for ice fishing access.
Pay and Display: All vehicles must display a parking ticket from the pay station.
Fishing Tournaments using Honeoye Lake State Boat Launch require a Special Use Permit at no fee. There is a designated area to set up for weigh-ins during fishing tournaments - a gravel patch located in the North-West corner of the Boat Launch site. Please note that no one has exclusive rights to the facility, and there may be one or more tournaments on any day.
Honeoye Lake is tenth in size among the 11 FINGER LAKES (2nd smallest). Located 28 miles South of Rochester, in Ontario County.
Elevation: 804 feet
Area: 1,772 acres
Length: 4.5 miles
Maximum Width: 0.8 miles
Maximum Depth: 30 feet
Fish Species: Walleye (only species stocked, 8.7 million fry annually), Largemouth Bass, Smallmouth Bass, Bluegill, Yellow Perch, Pumpkinseed, Black Crappie. Aquatic Vegetation: Eelgrass, Pondweed, Eurasian Milfoil and Water Stargrass. Generally abundant near shore and out to a depth of 15 ft.
*Please contact NYS DEC Region 8, (585) 226 - 2466 or visit dec.ny.gov for more information on Honeoye Lake and fishing regulations. For information regarding boating restrictions and lake closures please contact Ontario County Sheriff (585) 394 - 4560.
Pet Policy: A maximum of two pets are allowed in day use areas unless prohibited by sign or directive. Pets are to be supervised at all times and either be crated or on a leash not more than 6-feet in length. Proof of rabies inoculation shall be produced if requested by staff. Pets are not permitted in playgrounds, buildings, golf courses, boardwalks, pools and spray-grounds or guarded beaches (this does not apply to service animals).
Hours of Operation
Launch is open year round, sunrise to sunset.

Fee collection with "pay & display" system, daily.
Tournaments by permit only - 30 days in advance. Call 585-335-8111 to apply. 
No hunting permitted.
Fees & Rates
Most New York State Parks charge a vehicle use fee to enter the facility. Fees vary by location and season. A list of entry fees and other park use fees is available below. For fees not listed or to verify information, please contact the park directly.
The easy-to-use Empire Pass card is $80- and your key to all-season enjoyment with unlimited day-use entry at most facilities operated by State Parks and the State Dept. of Environmental Conservation including forests, beaches, trails and more. Purchase online or contact your favorite park for more information. Learn more about our Admission Programs including the Empire Pass.
Vehicle Entrance Fee
$7

*The Vehicle Use Fee is in effect 24/7 from: 5/1/2023 - Columbus Day.

All vehicles must display a valid parking ticket from the pay station, on the dashboard. All vehicles must pay the Vehicle Use Fee unless covered by one of the following:
Empire Pass - Scan to receive parking ticket
Lifetime Empire Pass - Scan Driver's License to receive parking ticket
Access Pass - Scan to receive parking ticket
Lifetime Liberty Pass - Scan to receive parking ticket
Golden Senior Program - Scan NY Driver's License to receive parking ticket
Peddling Fee
$400