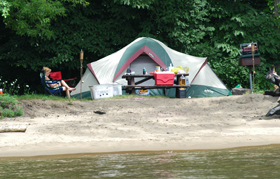 Accessible only by boat, Hudson River Islands State Park facilities are concentrated on the islands of Gay's Point and Stockport Middle Ground. These islands are fragile communities with many rare and endangered plant and animal species. Day-use facilities include picnic areas with grills and nature trail. Fishing is popular and transient camping is allowed.

Please Note: There are no docks. Boats must be moored off the island or visitors can bring their kayaks/canoes on shore. It is a first come first serve park for camping. There is no entrance fee and no reservations are needed.
Hunting is NOT allowed.
Pet Policy: A maximum of two pets are allowed in campsites and day use areas unless prohibited by sign or directive. Pets are to be supervised at all times and either be crated or on a leash not more than 6-feet in length. Proof of rabies inoculation shall be produced if requested by staff. Pets are not permitted in playgrounds, buildings, golf courses, boardwalks, pools and spray-grounds or guarded beaches (this does not apply to service animals).
Mailing Address
c/o Schodack Island State ParkSchodack Landing, NY 12156
Hours of Operation
Day Use/Picnicking: May-Ocotber
Maps
Firewood source maps show a 50-mile radius from which untreated firewood may be moved to this campground. For more information see firewood restrictions.