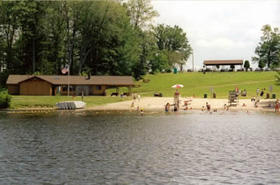 Please Note: The following passes are NOT accepted: the Empire, Lifetime Liberty, and Access pass. However, Lake Superior does accept NYS Driver's License/non-driver IDs for the Golden Park Program.
The park is managed by Sullivan County under license from the Palisades Interstate Park Commission.
Lake Superior State Park has beaches, boat launches and picnic areas. Fishing is also popular.
Boating Information: Patrons can bring their own boat to launch, however, gas motors are prohibited. Row boats and paddle boats are available to rent during the summer months.
Picnic Areas and Pavilions: Are available for rental through Sullivan County. Please see the application and rules for additional information.
There is no camping at Lake Superior State Park.
Pets: Dogs only, must be on a leash not more than 6 feet. Not allowed in buildings, picnic or bathing areas or on walkways.
Mailing Address
Sullivan County DPW, Box 5012 Monticello, NY 12701