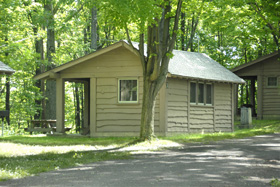 In August of 1779, the peace and tranquility of this forested hill was broken by the boom of cannons, the crack of musket fire, and the yells of Haudenosaunee warriors. The Continental Army was engaged in battle with the British regulars, Loyalist rangers and 1000 Native American warriors. The battle of Newtown was the decisive clash in one of the largest offensive campaigns of the American Revolution. This expedition, known as the Sullivan-Clinton Campaign, had been regarded as punishment to several tribes among the Six Nations of the Iroquois Confederacy who had sided with the British in the war and had attacked frontier settlements.
A stone monument was dedicated at the top of the hill on August 29, 1879, the centennial of the Battle of Newtown. The present granite monument was erected in 1912. During the 1930s, Civilian Conservation Corps crews built and developed many of the present facilities of the park, including a beautiful, rustic lodge. In 1973, Newtown Battlefield Reservation was designated as a historic landmark and placed on the National Register of Historic Places.
Pavilion Information
Newtown Battlefield has seven pavilions/rooms. Prices range from $50 to $150 and can accommodate 25 to 77 people. Check availability at ReserveAmerica.com
Don't miss these popular attractions near the park:
Pet Policy: A maximum of two pets are allowed in day use areas unless prohibited by sign or directive. Pets are to be supervised at all times and either be crated or on a leash not more than 6-feet in length. Proof of rabies inoculation shall be produced if requested by staff. Pets are not permitted in playgrounds, buildings, golf courses, boardwalks, pools and spray-grounds or guarded beaches (this does not apply to service animals).
Hours of Operation
The park is open for recreational opportunities year-round with dawn to dusk winter access only by foot from the bottom of the hill and no facilities open. Limited parking is available during the winter between County Route 60 and the park gate.

The lower gate opens for vehicle access when the Main Campground opens and remains open until the weather turns, typically in November.

2023 Camping/Cabins Season:
Main Campground and Cabins: 5/26-10/15


North Campground: 5/26-10/8

Shelters/Pavilions:
Main Lodge (with kitchen): 5/26-10/15
Shelter 1-5: 5/26-10/15
Shelter 6 and Ballfield / Volleyball: 5/26-10/8
Fireplace Pavilion: currently unavailable
Fees & Rates
Most New York State Parks charge a vehicle use fee to enter the facility. Fees vary by location and season. A list of entry fees and other park use fees is available below. For fees not listed or to verify information, please contact the park directly.
The easy-to-use Empire Pass card is $80- and your key to all-season enjoyment with unlimited day-use entry at most facilities operated by State Parks and the State Dept. of Environmental Conservation including forests, beaches, trails and more. Purchase online or contact your favorite park for more information. Learn more about our Admission Programs including the Empire Pass.
Camping

Campsites:
$15-$30/night

Cabins:
Per night: $80.50 - two night minimum all season. Daily rate is 1/4 the weekly charge
Per week: $322

Non-NYS resident fee for camping, per night: $5.00
Non-NYS resident fee for cabins, per night: $7.00
Non-NYS resident fee for cabins, per week: $28.00
*Must present current NYS Driver's License or Non-driver ID upon check-in*

Peddling Fee
$400
Shelters/Pavilions:

Main Lodge (with kitchen): $150
Shelters 1 - 6: $50
Fireplace Pavilion: currently unavailable
Maps

New! Download this park's digital map to your iOS Apple and Android device.
Firewood source maps show a 50-mile radius from which untreated firewood may be moved to this campground. For more information see firewood restrictions.
During the Great Depression in the 1930's Newtown Battlefield State Park hosted Civilian Conservation Corps Company 1251-c. This company of the CCC, comprised entirely of black enrollees, made great contributions to the park in a little over two years of work in the park. This group of men also made a great contribution to the Civil Rights Movement, as black officers eventually took over command of the company in 1937. Watch this video to learn more!
If you have a group (10 or more) that is interested in scheduling its own gorge tour or educational program at a Finger Lakes State Park, please fill out this quick form to help us best assist you. The regional Environmental Educator Josh Teeter (Josh.Teeter@parks.ny.gov) will respond and coordinate a free program with you.
Deer hunting (bow only) is permitted in season. Please reference the NYS DEC Hunting and Trapping Guide for current dates and rules.
A valid New York State hunting license with the proper hunting stamps will serve as the regional hunting permit. Except where otherwise stated, this is the only permit necessary.
Note: Hunters at Newtown Battlefield must sign in each day at the park office. If a deer is taken, hunters must call the park office - (607) 732-6287 - to report sex of deer and approximate age of deer.
Safety zones and restricted areas are posted to ensure the safety of other park patrons and regional personnel. Signs will be posted at all parks during hunting season to notify patrons of this activity. Handguns will not be permitted in any of the parks. No trapping is allowed.
First Day Hike
Monday, January 1, 2024 01:00 PM
Newtown Battlefield State Park
Let's start the New Year off on the right (or left) foot! Weather dependent we plan to start near the parking lot and wander around the scenic "top of the hill", finding our way past the Main Lodge, Cabins, out to the replica Native American Village, and back to one of the best scenic views of Chemung County at the Overlook Deck. Will update as we get closer to the New Year with conditions and location of the meeting place. Please bring your water bottle and proper footwear for the conditions. NOTE: This is a great hike - as long as the weather cooperates - to bring strollers. You can venture out on your own along the no vehicle access park road for a beautiful walk on the hill.