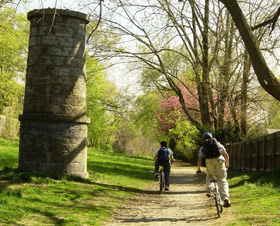 Watch Tom Tarnowsky's Presentation on the History of the Old Croton Aqueduct in Westchester County: https://aqueduct.org/news/watch-tom-tarnowsky-s-lecture
During the 1830s New York City was in dire need of a fresh water supply to combat the steady rise of disease and to fight numerous fires that often engulfed large tracts of businesses and homes. After numerous proposals and an abandoned plan two years into its production, construction of an unprecedented magnitude began in 1837 under the expertise of John Bloomfield Jervis. The proposed plan called for a 41-mile aqueduct and dam to be built in order to run water from the Croton River to New York City. Three to four thousand workers, mostly Irish immigrants earning up to $1.00 per day, completed the masonry marvel in just five years. In 1842 water flowed into above-ground reservoirs located at the present sites of the New York Public Library and the Great Lawn of Central Park. Throngs of people attended the formal celebration held on October 14th and celebrated with "Croton cocktails" - a mix of Croton water and lemonade.
This 19th-century architectural achievement cost New York City approximately 13 million dollars and was believed able to provide New Yorkers with fresh water for centuries to come. The population spiraled upward at a dizzying rate, however, and the Croton Aqueduct, which was capable of carrying 100 million gallons per day, could no longer meet New York City's needs by the early 1880s. Construction of the New Croton Aqueduct began in 1885 and water began to flow by 1890. Although no longer the sole supplier of fresh water, the Old Croton Aqueduct continued to provide water to New York City until 1965.
In 1968, the New York State Office of Parks, Recreation and Historic Preservation purchased 26.2 miles of the original 41-mile aqueduct from New York City. Presently, Old Croton Aqueduct State Historic Park is a linear park which runs from Van Cortlandt Park at the Bronx County/City of Yonkers border to the Croton Dam in Cortlandt. In 1987 a section was reopened to supply the Town of Ossining and in 1992 the Old Croton Aqueduct was awarded National Historic Landmark Status. The scenic path over the underground aqueduct winds through urban centers and small communities. It passes near numerous historic sites, preserves, a museum highlighting the construction of the Aqueduct, and many homes. The Aqueduct's grassy ceiling provides abundant recreational opportunities for outdoor enthusiasts. While primarily for walking and running, parts of the trail are suitable for horseback riding, biking (except during "mud season"), bird watching, snowshoeing, and cross-country skiing.
Aqueduct Education Project
Did you know? The Aqueduct Education project offers hands-on student tours and programs at three different historic sites in the Old Croton Aqueduct Historic State Park. Learn more about the variety of programs we offer: Aqueduct Education Project
Don't miss these popular destinations and attractions within or near this historic park
Double Arch-a unique bridge-within-a-bridge, located in Ossining across from the Ossining Museum
Kykuit-the Rockefeller's estate
New Croton Dam-an unusual spillway makes for a pretty waterfall at the state of the Croton River
Ossining Museum-located in Ossining across from the Double Arch contains a small exhibit on the history of the Old Croton Aqueduct
Keeper's House-located in Dobbs Ferry, it was once the residence for the caretaker of the Aqueduct, it is the future home of the OCA's Visitor Center
Weir Chambers-located along the trail at various locations, they were constructed to enable Overseers and Caretakers to control the flow of water through the Aqueduct for repairs, inspections or to completely drain the line. Also look for the ventilators that are located along the trail, constructed to ventilate the aqueduct.
The Friends of Old Croton Aqueduct offer a detailed map and brochure to help visitors use the Aqueduct Trail to connect to numerous destinations in Westchester County. To purchase a brochure, please visit http://www.aqueduct.org/. Funds raised from the brochure help the Friends offer tours, programming, and improvements for the park.
Hours of Operation
Old Croton Aqueduct's trail is accessible from multiple cross streets over 26 miles. For a map of the trail please see the Map. 15 Walnut Street is the location of the Park Office, however it is not the start or end of the trail. The Aqueduct has no parking areas of its own, but ample parking is available on most nearby streets.

There is no charge to use the trail.

Tours: Many are free but charges apply to some. Ossining Weir Chamber, Adults $5; children $2 To schedule tours of the Weir Chamber call Mavis Cain (914) 693-0529. For general questions about walks and tours, contact Sara Kelsey (646) 303-1448. A list of events is available at www.aqueduct.org or by clicking the "Upcoming Events" button on this page. Occasional programs/tours are offered in cooperation with Joseph G. Caputo Ossining Community Center, call for details (914) 941-3189
Park is open year round from sunrise to sunset.
Aqueduct Education Project

The Aqueduct Education project offers hands-on student tours and programs at three different historic sites in the Old Croton Aqueduct Historic State Park. Learn more about the variety of programs we offer: Aqueduct Education Project


Teachers take advantage of The Connect Kids to Parks Field Trip Grant Program


The Connect Kids will refund up to $1,000* of the field trip costs for visits to a New York State Park, Nature Center, or Historic Site (Parks), or a Department of Environmental Conservation (DEC) Environmental Education Center, fish hatchery, or selected DEC sites. Eligibility: Title 1 schools AND any public school in a district with a Title 1 school (grades preK-12 including school-sponsored clubs), Advantage After School Programs, 21st Century Community Learning Centers, and village, town, or county youth bureaus in communities with Title 1 schools are eligible to apply. Each class or afterschool/youth bureau group is eligible for one transportation grant per academic year.
Learn more
The Aqueduct was built to help supply water to New York City, owing in part to its inadequate water supply. Major David B. Douglass, a West Point engineering professor, was the project's first chief engineer. He was succeeded in 1836 by John B. Jervis of Rome, New York, whose experience was in canal and railroad building. Construction, begun in 1837, was carried out largely by Irish immigrant labor.

An elliptical tube 8 ½ feet high by 7 ½ feet wide, the Aqueduct is brick-lined for most of its length, with a coating of hydraulic cement at bridge crossings and outer walls of hammered stone. Designed on principles dating from Roman times, the gravity-fed tube, dropping gently 13 inches per mile, challenged its builders to maintain this steady gradient through a varied terrain.

To do so the Aqueduct was cut into hillsides, set level on the ground, tunneled through rock and carried over valleys and streams on massive stone and earth embankments and - at Sing Sing Kill, the Nepperhan (Saw Mill) River and Harlem River - across arched bridges. Typically it is partly buried, with a telltale mound encasing it. As one learns to read the "clues," an understanding of how the tunnel engages the landscape deepens the trail experience.

Croton water first entered the Aqueduct at 5 a.m. on June 22, 1842 (followed by a dauntless crew in a small boat, the Croton Maid) and emerged at the Harlem River 22 hours later. The water eventually filled two above-ground reservoirs - on the present sites of the Great Lawn in Central Park and the New York Public Library on Fifth Avenue - to great civic rejoicing.

Built to meet the city's needs for 100 years, its capacity was soon exceeded by the spiraling population growth to which is contributed. The New Croton Aqueduct, triple the size, was started in 1885 a few miles to the east and began service in 1890. The Old Aqueduct supplied decreasing amounts of water until 1955. (The northernmost portion reopened in 1989 and continues to supply water to the Town of Ossining.)

While the state trailway designation ends at the New York City line, the Aqueduct continues for six to seven miles through the Bronx. There its green corridor, managed by New York City Parks & Recreation, follows a southward route through Van Cortlandt Park, past the east edge of Jerome Park Reservoir and along Aqueduct and University avenues to the famed High Bridge, which carried the water in iron pipes across the Harlem River to Manhattan to serve a growing metropolis.

The park was created in 1968 and encompasses the Westchester County section of the Old Croton Aqueduct, between Croton Gorge County Park and the Yonkers-New York City line. This 26.2-mile portion of the total 41-mile Aqueduct route became Old Croton Aqueduct State Historic Park, a recreational and cultural resource that appeals to a wide range of visitors. Tree-lined and grassy, traversing local villages and varied landscapes, the trail offers glimpses of historic and architectural treasures along the way. Now a National Historic Landmark, the Aqueduct is one of the great engineering achievements of the 19th century.
Weir Tours
Saturday, October 30, 2021 11:00 AM
Old Croton Aqueduct State Historic Park
(914) 693-5259
Meet at the benches in front of the Joseph Caputo Center, which is located at 95 Broadway, Ossining, NY 10562, just west of Rte. 9/Highland Ave. at the junction of Croton Ave. (Rte. 133) (from Metro-North Ossining Train Station by taxi or 15-minute uphill walk). (Parking lots nearby) After a brief walk, descend into the Weir in Ossining and explore the original 1842 brick water tunnel and learn its history. Less than a half mile and two hours.