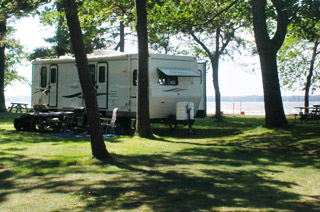 Verona Beach State Park, located on the eastern shore of Oneida Lake, is a picnicker's and camper's delight. Shaded picnic areas and the campground are adjacent to the beach with an excellent view of the water. The lake, Black Creek, cattail marshes, and bottomland hardwood swamps give Verona Beach one of the most diverse aquatic habitats in the Central Region, and well worth a hike on the "Woods and Wetland" nature trail. The winter season hosts snowmobilers, cross-country skiers and ice fishermen. The eastern portion of the park is open for hunting deer, small game, and waterfowl, in season.
Pavilion Information
Verona Beach has five pavilions and a room. Prices range from $50 to $300 and can accommodate 50 to 300 people. Check availability at ReserveAmerica.com
Hunting - DEC Permit Only
Current Water Quality - Beach Results
Pet Policy: A maximum of two pets are allowed in campsites and day use areas unless prohibited by sign or directive. Pets are to be supervised at all times and either be crated or on a leash not more than 6-feet in length. Proof of rabies inoculation shall be produced if requested by staff. Pets are not permitted in playgrounds, buildings, golf courses, boardwalks, pools and spray-grounds or guarded beaches (this does not apply to service animals).
Mailing Address
Verona Beach State Park
P.O. Box 245Verona Beach, NY 13162
Hours of Operation
Day use area and trails are open year-round

2021 Beach/Swimming Season:



** Beach will be closed Aug. 26 through Sept 3. Plan Accordingly.

Beach will reopen Sept. 4 through Labor Day from 11 a.m. to 7 p.m.. Closed for the season thereafter.

Splash Pad is open daily from 9 a.m. to 8 p.m. (Weather Dependent) through Labor Day and is not affected by beach schedule.

Boating: Please note that direct access to a lake is available for launching personal non-motorized boats. Trailers are not permitted.
2021 Camping Season 5/28/21 - 9/6/21 (closing early for electrical upgrade)
47 Campsites, maximum 6 people per site.
11 waterfront, 12 electric, and 24 basic sites

Each site allows for either 2 tents OR 1 hard wheeled camping equipment and 1 tent.
Generator Hours: 9:00 am - 11:00 am and 5:00 pm - 9:00 pm

Reserve through ReserveAmerica 800-456-2267
Winter Park Office Hours: Open on a scheduled basis. Please call 315-762-4463 for an appointment.


Hunting:  Eastern portion of the park only, in season.
** Shelter Rentals: SHELTERS OPERATING AT 50% CAPACITY UNTIL FURTHER NOTICE




Available for reservation 5/21/21 to 9/6/21, 8 a.m. to sunset. Reserve through ReserveAmerica: 800-456-2267.

Large Shelter, capacity 300

South Shelter, capacity 150

Community Building 94

Shelter A, capacity 50

Shelter B, capacity 50

Shelter C, capacity 50
Fees & Rates
Most New York State Parks charge a vehicle use fee to enter the facility. Fees vary by location and season. A list of entry fees and other park use fees is available below. For fees not listed or to verify information, please contact the park directly.
The easy-to-use Empire Pass card is $80- and your key to all-season enjoyment with unlimited day-use entry at most facilities operated by State Parks and the State Dept. of Environmental Conservation including forests, beaches, trails and more. Purchase online or contact your favorite park for more information. Learn more about our Admission Programs including the Empire Pass.
Maps

New! Download this park's digital map to your iOS Apple and Android device.
Firewood source maps show a 50-mile radius from which untreated firewood may be moved to this campground. For more information see firewood restrictions.
Central New York Polar Dip To Support Camp Sunshine!
Saturday, March 5, 2022 09:00 AM - 02:00 PM
Verona Beach State Park
(315) 762-4463
7th Annual Central New York Polar Dip to support Camp Sunshine will take place from Saturday, March 5 from 9 a.m. to 2 p.m. Sign up as an individual or enter a team as the benefit strongly counts on support from businesses, schools and other local organizations! Benefits Camp Sunshine's one-of-a-kind retreat for children with life-threatening illnesses and their families. This year's goal is to raise $25,000. Participants who raise $100 each will receive a long-sleeve t-shirt!
To register: http://csun.convio.net/site/TR/PolarBearPlunge/General?fr id=1563&pg=entry