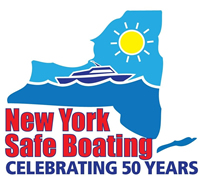 Welcome aboard! New York State offers an abundance of scenic waterways for boaters including the Atlantic Ocean, Long Island Sound, the Hudson and St. Lawrence Rivers, lakes in the Adirondacks, the Barge Canal, the Finger Lakes, Great Lakes, and hundreds of other streams, lakes and rivers to enjoy. Boaters can escape on a relaxing cruise, fish a favorite cove, or embark on a family adventure exploring new waters, all while experiencing first-hand New York's incredible natural beauty.
The Office of Parks, Recreation and Historic Preservation provides the public with a safe and enjoyable environment for recreational boating. Our goal is to assist the boater in developing safe boating habits and maintaining a strong law enforcement presence on our waters.
Everyone can be a safer boater by following three simple suggestions:
* New Law Effective May 1st 2014: All individuals born on or after 5/1/96 are now required to successfully complete an approved course in boater education in order to operate a motorboat. Approved courses include those offered by NYS Parks, the U.S. Coast Guard Auxiliary or the U.S. Power Squadrons. Individuals less than 10 years of age may not take this course of instruction. Certain allowances to this law have been made for visitors to New York, persons renting a boat and persons purchasing a new boat for the first time. Please refer to Frequently Asked Questions for more information. Find a Boating Safety Course near you.
Adventure License: Eliminate the need to carry your boating safety certificate with you when boating, have your NY Boating Safety Certificate reflected on your NYS Driver License, Non-Driver ID or Learner Permit with a small anchor icon. Learn more

Attention Boaters: New regulation in effect for Parks boat launches requires boaters to take the following actions before launching their boat or leaving the site:
Clean all visible plant and animal material such as weeds and zebra mussels from their boat, trailer, and associated equipment
Drain the boat's bilge, live well, bait well, and other water holding compartments
This regulation applies to all types of motorized and non-motorized watercraft, including jetskis, stand-up paddleboards, canoes and kayaks.
NY water bodies are home to an incredible array of diverse native plants, animals and ecosystems. To ensure their longevity for future generations, we need your help to protect them from aquatic invasive species.
A Watercraft Transport Permit for Aquatic Invasive Species is required to transport a watercraft that has not been drained or cleaned of visible attached plant or animal material from a Parks boat launch site to a location on land. This is a self-certified permit that must be filled out by the boater, signed and dated and kept in the possession of the individual transporting the boat.

New: Lake George Boat Inspections start May 15, 2014 Beginning this season, all trailered boats being launched on Lake George must undergo an inspection to protect against the introduction of invasive species at one of six regional inspection stations before launching.
Read More.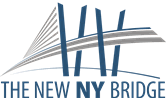 Navigating safely around the New NY Bridge construction zone It is important for Hudson River boaters to remember that the entire crossing of The New NY Bridge (Tappan Zee Bridge) is an active construction zone. For specific boater safety information on this area please refer to the New NY Bridge Boater Safety Information.
For more information, please contact:
Office of Parks, Recreation & Historic Preservation
Bureau of Marine Services
Albany, NY 12238
518/474-0445
518/408-1030 (fax)