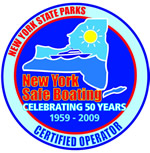 New York State Legal Requirements
Motorboats
New Law Effective May 1st 2014
All individuals born on or after 5/1/96 are now required to successfully complete an approved course in boater education in order to operate a motorboat. Approved courses include those offered by NYS Parks, the U.S. Coast Guard Auxiliary

or the U.S. Power Squadron

. Individuals less than 10 years of age may not take this course of instruction. Certain allowances to this law have been made for visitors to New York, persons renting a boat from a livery and persons purchasing a new boat for the first time. Please refer to Frequently Asked Questions for more information. Find a Boating Safety Course near you.
Personal Watercraft
Operators may not operate a Personal Watercraft (JetSki, SeaDoo, etc.) unless they are at least 14 years of age and hold a boater safety certificate issued by State Parks, the USCG Auxiliary or the US Power Squadron for having completed a an 8-hour classroom based course of instruction.
A person without a safety certificate may operate a PWC when accompanied by someone over 18 years of age who is the holder of a boater safety certificate. For the purposes of this section, "accompanied" shall mean upon the same PWC.
Non-Residents
A boating safety certificate issued to a resident of another state or country is acceptable provided the certificate is carried while operating in New York State. Please note the certificate must be issued by the state or country of residence, and should be NASBLA

approved.
New York Safe Boating Course
This course is designed as a comprehensive boating safety course, teaching the fundamentals of safe boating operation and has been approved by the National Association of Boating Law Administrators (NASBLA).
Students must be at least 10 years of age to attend the course.
This course requires a minimum of 8 hours of classroom instruction.
Students must pass a final exam with a score of 76%.
Courses are available throughout the state. The course listing is updated regularly.
You must register for a course by calling the contact number provided.
An instructor may or may not charge a fee for the course. If a fee is charged, they may vary. Some courses may be taught by volunteers free of charge.
Students will receive a temporary boating safety certificate upon completion of the course.
Students 18 years of age and older will be required to pay a $10 fee to NYS for issuance of a permanent boating safety certificate.
Permanent boating safety certificates do not expire.
A copy of the third edition of the "New York Safe Boating Textbook: A Course on the Safe Operation of Boats and Personal Watercraft" can be downloaded to your computer, phone, or tablet. Hard copy textbooks will be available at the class for those who would like one.
Boating Safety Certificate can be Noted on Driver's License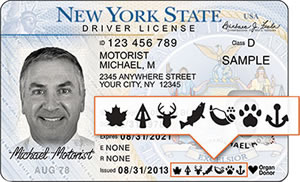 New York State just introduced a new program that will now permit you to elect having your New York Boating Safety Certificate noted on your driver's license or other identification document issued by the Department of Motor Vehicles (DMV).
Anyone successfully completing the New York Safe Boating Course may opt to have their driver's license, non-driver ID, or learner's permit indicate completion of the course. A small anchor icon will be placed on your DMV document, attesting that you have earned a New York State boating safety certificate.
The advantage to this program is that you will no longer need to carry your boating safety certificate with you when boating, provided you have your DMV credential with you. DMV will maintain a record of your having completed the boating safety course, and automatically place the icon on your license each time it is renewed.
If you have a previously issued safety certificate, DMV will be offering you the option to visit any of their offices in order to complete the process in person. Check with your local DMV office. Or another option is to simply fill out the NY State Safe Boating Certificate Optional Credentialing of your DMV Document Form (pdf) with the required information and any necessary fees and forward it to the address indicated. State Parks will forward your choice to have the safe boating icon added to your DMV document.
If you plan on taking a New York Safe Boating Course in the future, your instructor will provide you with paperwork that will allow you to have your boating safety icon placed on your driver's license.
If you have a U.S. Coast Guard Auxiliary or U.S. Power Squadron Boating Safety Certificate, you can also have it designated on your New York State DMV document. To do so, you must bring your original certificate directly to any DMV office and pay the replacement license fee. New York State Parks is unable to forward your information to the DMV.
Instructors for New York Safe Boating Course
How to become an Instructor for the New York Safe Boating Course
New instructors are needed to teach the New York Safe Boating course to youths and adults. New York State Parks provides textbooks, lesson plans and a power point presentation at no cost to all instructors.
To become an instructor you must:
Be at least 18 years of age
Pass a criminal background check
Have taken the classroom based New York Safe Boating Course and earned a New York Safe Boating Certificate issued by State Parks or complete the New York State Marine Law Enforcement Course.
Attend the seminar entitled "Introduction to the New York Safe Boating Course" and pass the 50 question "Instructor Knowledge Exam".
Be able to demonstrate an ability to instruct by holding a current NYS Teachers Certificate, a teaching certificate for other professional courses (pending approval by State Parks), or assist in the instruction of four New York Safe Boating Courses.
To begin the certification process, complete the New York Safe Boating Instructor Application (pdf). For more information call 518-474-0445.
Suffolk County Residents
Recent legislation signed by the Governor supersedes all local laws or ordinances with respect motorboat education requirements. Any local boater education requirement adopted by a locality prior to the effective date of this law is no longer enforceable.