Please review the following rules to ensure uninterrupted use of your Empire Passport.
The Empire Passport is valid from the date of purchase through March 31 of the following calendar year. New Empire Passports purchased before January 1, will expire at the same time as those purchased in the following calendar year. There is no discount if purchased in later months. It is not transferable and non-refundable.
Access is allowed for the decaled vehicle only.
The Empire Passport does not guarantee vehicle entry into the park.
Camping, golf, museum, historic site admission and other special activity fees are not included.
The Empire Passport is only usable for passenger vehicles.
The Empire Passport may be used only while the holder is visiting the facility.
The Empire Passport must be permanently affixed as described below. It will not be accepted if it has been altered in any way or is adhered with tape.
Cars - driver's side window, front or rear
Motorcycles - left side; prominently displayed
Boats - for use at boat launch sites, the Empire Passport must be affixed to the vehicle towing the boat, NOT to the boat. For island parks, where the boat is the primary vehicle which will occur a fee to enter the facility, the Empire Passport must be displayed inside of the hull in a protected, but visible area.
Clear protective covers for permanently affixing Empire Passports to motorcycles or boats without windshields are available free of charge upon request.
Replacement Empire Passports for sold, stolen, destroyed or damaged vehicles may be issued in person or by mail and requires:
A letter requesting replacement and explaining the circumstances of the loss;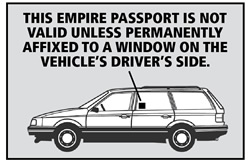 The decal, or its fragments or scrapings (whenever possible, but always for a vehicle that has been sold or a leased vehicle that has been returned).
Proof of loss, sale or damage acceptable to the Office, such as a police report, insurance report, repair invoice, DMV report, bill of sale, etc. whenever possible, but always when the decal or fragments are not available;
Leased and rental car users must affix the Empire Passport and may obtain a free replacement as described above.
The Empire Passport is not valid unless permanently affixed to a window on the vehicle's driver's side.