2017 Empire Passes (annual & multi-year) are no longer being sold online, by phone, or by mail.
Stay tuned for information regarding 2018 Empire Pass availability.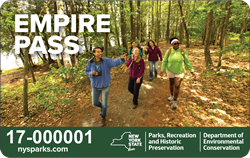 A new wallet-sized Empire Pass Card that can be shared within a household is now available. It's a family-friendly alternative to the traditional window decal, and not assigned to a specific vehicle. The new card can be used by parents, grandparents, caregivers and others.
Whether a card or a decal, the Empire Pass is your key to all-season enjoyment at New York State Parks. It provides unlimited day-use vehicle entry to most facilities operated by New York State Parks and the State Dept. of Environmental Conservation including forests, beaches, trails and more. Learn where the Empire Pass is Accepted.
Empire Passes are available for different lengths of time: choose from one year, multi-year or lifetime.
Please refer to the Empire Pass Card Guidelines for Use, Empire Pass Decal Guidelines for use and the Empire Pass Frequently Asked Questions for pass replacement, volume sales and other important information.
Annual Empire Pass
Annual Empire Pass Card: Available for $80, the 2017 Empire Pass Card is a new wallet-sized card that can be shared within a household and not assigned to a specific vehicle.
Annual Empire Pass Decal: Available for only $65, the 2017 Empire Pass Decal is affixed to a vehicle and non-transferable.
To purchase:
In-Person (annual pass only): For fastest service, visit your nearest state park (call for hours and credit card capability) or state park regional office. Pay by credit card, check or money order payable to "NYS Parks" or cash.
Multi-Year Empire Pass Card
Frequent Empire Pass Card purchasers may be interested in a multi-year Empire Pass Card which can be bought online, by mail or telephone. A 3-year Empire Pass Card may be purchased for $205; a 5-year Empire Pass Card may be purchased for $320. Upon purchase you will be mailed an Empire Pass Card. You do not need to contact our office unless your address has changed. If it has, please complete our Change of Address form.
Lifetime Empire Pass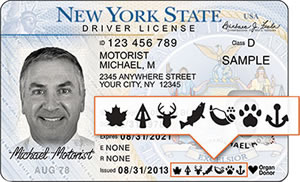 The Lifetime Empire Pass is a convenient option for loyal Empire Pass users. The Lifetime Empire Pass will be issued by the NYS Dept. of Motor Vehicles as an icon that will appear on your NYS Driver License, Non-Driver ID or Learner Permit, eliminating the need for a separate document. For a one-time payment of just $750, it provides an even greater discount for day use vehicle entry than the annual or multi-year Empire Pass, with all the same benefits. With no expiration date, buy it once and enjoy the parks forever!
Special one-time bonus: Those purchasing a Lifetime Empire Pass can select to receive a free $100 State Park Gift Card with their order. The gift card can be used at more than 9000 campsites, cabins and cottages throughout the state and select state golf courses. Gift cards has no expiration date, if you prefer not to receive the gift card, just select "No thanks" during the ordering process.
Show Off Your Pride: I Love NY Parks License Plates
Parks has teamed up with the NYS Dept. of Motor Vehicles to offer three beautiful "I love NY Parks" license plates that allow you to show off your pride and passion for state parks and the great outdoors. One set (front and back) of these license plates are available for Lifetime Pass holders and for sale to single and multi-year Empire Pass holders. To learn more visit
NYS Dept. of Motor Vehicles.