The New York State Park Police began as a patrol force in 1885 at Niagara Falls. As our State Park system grew, so did the need for police services, and by 1973 State Park Police officers were on patrol in every park region in the state. The New York State Park Police provide police services in a wide variety of locations - from crowded urban areas within New York City as well as crowded ocean beaches to vast natural areas and areas of rugged terrain.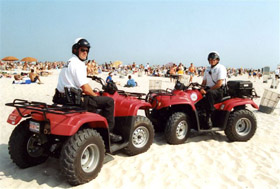 Today the State Park Police plan and conduct police and public safety operations for some of the largest public assemblies in the United States. New York State Park Police continue to provide police services consistent with State Parks mission; to provide safe and enjoyable recreational opportunities for New York State residents and visitors. Typically, the State Park Police handle very large crowds, assist park users, search for and rescue missing persons, make arrests, conduct investigations, and provide emergency services wherever and whenever they are needed.
State Park Police also provide special services such as marine law enforcement & education on New York waterways, snowmobile enforcement & education throughout the state, and deploy cliff and gorge rescue teams in many locations including both Niagara Falls and the Letchworth Gorge.
Regardless of your situation, State Park Police members are highly trained professionals that you can count on when you need them. We are here to help.
In an Emergency Call 911
How to contact the New York State Park Police
For Employment Information please visit NYS Park Police Employment.
Call the Park Police at the numbers listed below
To report a crime or incident
If the crime or emergency is in progress call 9-1-1
If the crime or incident has already occurred call the number listed for that region below.
To request a copy of an incident/accident report-write to the address below