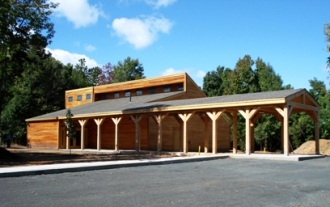 Spring Newsletter
Group Programs
The Clay Pit Ponds Interpretive Center offers interactive exhibits and environmental education programs. Come learn about the Preserve's natural environment and rich history of the Lenape, the Free Blacks of Sandy Ground, the clay-miners, and organic farmer Herbert Gericke. Historical artifacts as well as wildlife specimens native to Staten Island's south shore are on display. Visitors can get up close and personal with live animals, enjoy the touch discovery station, look through a children's stereoscope or play in the kid's activity area. Be sure to venture outside and explore the miles of trails that wander among meadows, forests, wetlands, streams and to Sharrotts Pond.

The Interpretive Center offers environmental education programs year round for schools at all grade levels as well as interpretive programs, hikes, and themed walks for youth organizations and the general public. Contact the Center for more information on public, school, scout or camp programs.


Hours of Operation
The Park Office, located at 83 Nielsen Ave, Staten Island, NY is open 9 AM - 5 PM daily. Phone: (718) 967-1976 The Preserve gounds are open dawn to dusk.
The Interpretive Center is open Tuesday - Saturday 9 AM to 4:30 PM with exhibits, classroom space, games, and access to Preserve trails.
Fees & Rates
Program Fees
All programs are FREE of charge. All children must be accompanied by an adult.