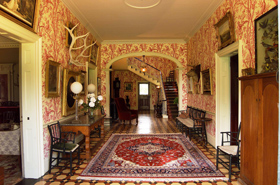 Situated in one of Central New York's earliest settled communities, and majestically overlooking Cazenovia Lake, Lorenzo State Historic Site offers an opportunity to discover the imprint of five generations of the Lincklaen/Ledyard family.

Established in 1807, the Federal style home of John Lincklaen, Holland Land Company agent and founder of Cazenovia, Lorenzo was continually occupied by the family until the property was conveyed to New York State in 1968.
Visitors to Lorenzo enjoy guided tours of the Mansion; stroll the Ellen Shipman formal garden and Dark Aisle Arboretum; view the Visitor Center orientation exhibits and a 15-minute introductory video; attend special events on the historic grounds including the annual "Lorenzo Driving Competition," "Rippleton Schoolhouse Community Day" and "Christmas at Lorenzo." Visitors may also partake in educational and interpretive presentations or hike the connective trail through the 87-acre site.
Lorenzo is the jewel of Cazenovia, a village renowned for its picturesque landscapes, quiet inns, fine restaurants, cultural attractions and unique shops.
Fees & Rates
Most New York State Parks charge a vehicle use fee to enter the facility. Fees vary by location and season. A list of entry fees and other park use fees is available below. For fees not listed or to verify information, please contact the park directly.
The easy-to-use Empire Pass card is $80- and your key to all-season enjoyment with unlimited day-use entry at most facilities operated by State Parks and the State Dept. of Environmental Conservation including forests, beaches, trails and more. Purchase online or contact your favorite park for more information. Learn more about our Admission Programs including the Empire Pass.
Admission
$5 Adults
$4 Seniors/Students
Children 12 and under Free
Group tours (12+ people) $4 per person with pre registration
School Tours - Please call ahead for options.
Guided Christmas Tours
Tuesday, December 8, 2020 until Friday, December 11, 2020 01:00 PM - 04:00 PM
Lorenzo State Historic Site
(315) 655-3200
Traditional tours of the mansion and decorations will be available. Group tours of eight or more may also be scheduled by prior arrangement. Holiday Admission Fees: $6 per person; $2 children 12 and under.
Lorenzo's Christmas Celebration
Thursday, December 10, 2020 until Sunday, December 13, 2020
Lorenzo State Historic Site
(315) 655-3200
Join us for Christmas at Lorenzo as we adorn every room in the mansion with festive holiday décor. With support from the Friends of Lorenzo, this annual holiday celebration will feature refreshments, live music and sleigh rides (weather permitting). In addition, on Sunday ornamental crafts and holiday treats will be featured at Rippleton Schoolhouse. Holiday Admission Fees: $6 per person; $2 children 12 and under. Dec. 10-11, 7 p.m. to 9 p.m. Dec. 12-13, 1 p.m. to 4 p.m.