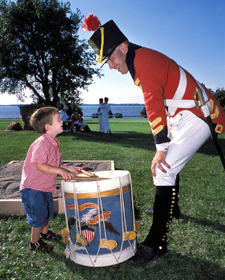 In 2007, the U.S. National Park Service's American Battlefield Protection Program announced:
"Sackets Harbor Battleground is considered a Priority I Principal site which includes battlegrounds that are most historically significant and most endangered. They require immediate preservation action before they are destroyed or damaged."
At Sackets Harbor, to enforce the Embargo Act of 1807, the brig Oneida patrolled Lake Ontario attempting to suppress smuggling between northern New York and Canada. Then, following the outbreak of war between the United States and Great Britain in June 1812, Sackets Harbor became the center of American military activity for the upper St. Lawrence River valley and Lakes Ontario and Erie. Ample timber allowed building a large naval fleet and barracks for thousands of soldiers.
The First Battle of Sackets Harbor 19 July 1812 began hostilities at the harbor, but the Second Battle 29 May 1813 became significant when British-Canadian forces landed at Horse Island and advanced on the mainland hoping to secure military supplies and destroy a warship under construction. Even though the Americans set fire to their supplies and the ship, the opposing forces were repelled, the ship saved and launched that summer.
When the May 29th battle ended, Brigadier General Jacob Brown directed burial of the British and Canadian dead. Two hundred years later, American, Canadian, and British military and civilians dedicated a monument to those Crown Forces. In 2013, Queen Elizabeth II recognized the international significance of that monument.
By the mid-19th c. the US navy occupied the navy yard and the station became home to a dozen commandants, their families, and domestic servants until only caretakers maintained the property, with Mrs. Frances Metcalf being the most well-known. In the 20th c. the NY Naval Militia trained at the yard.
To honor the military on the 100th anniversary of the 1813 battle, a granite monument surrounded by 100 trees became the centerpiece of the historic grounds. In attendance for the ceremony that day Franklin D. Roosevelt delivered remarks.
In 1967 the navy yard became a state historic site, then a farmstead was added and more recently battleground acreage plus Horse Island where the 1813 battle began.
Seasonally, staff and volunteers provide interpretation through living history, indoor and outdoor exhibits, guided or self-guided tours, and programs by guest presenters. The restored 1850's Navy Yard and Commandant's House, along with exhibits in the former farmstead, and the National Recreation Trail, offer diverse opportunities to learn about the people who helped make Sackets Harbor a significant historic site.
Pavilion Information
Sackets Harbor Battlefield has one pavilion. The day use price is $60 and can accommodate up to 60 people. Check availability at ReserveAmerica.com.
Mailing Address
P.O. Box 27 Sackets Harbor, NY 13685
Hours of Operation
Grounds:
Open year-round, closed at dark

Facilities:

Sat. May 20: Open 10am - 4:30pm

Sun. May 21 and Mon. May 22: Closed

Tues. May 23 through Sat. May 27: Open 10am to 4:30pm

Sun. May 28: Open 1pm - 4:30pm

Mon. May 29 Memorial Day: Open 10am - 4:30pm

Tus. May 30 through Sat. June 3: Open 10am - 4:30pm

Sun. & Mon. June 4-5: Closed

Tues. June 6 through Sat. June 10th: Open 10am - 4:30pm

Sun. & Mon. June 11-12: Closed

Tues. through Sat. June 13 - 17: Open 10am - 4:30pm

Sun. June 18: Opens 1pm - 4:30pm

Monday through Saturday June 19 - 24: Open 10am - 4:30pm

After June 24: Sunday 1pm - 4:30pm and Monday through Saturdays 10am - 4:30pm

Open Memorial Day, July 4 and Labor Day 10am to 4:30pm

After Labor Day weekend we will be open Saturdays through October 7.
10am - 4:45pm

Available for adult groups and school tours by appointment.
Fees & Rates
Most New York State Parks charge a vehicle use fee to enter the facility. Fees vary by location and season. A list of entry fees and other park use fees is available below. For fees not listed or to verify information, please contact the park directly.
The easy-to-use Empire Pass card is $80- and your key to all-season enjoyment with unlimited day-use entry at most facilities operated by State Parks and the State Dept. of Environmental Conservation including forests, beaches, trails and more. Purchase online or contact your favorite park for more information. Learn more about our Admission Programs including the Empire Pass.
Picnic Area
No Charge
Tour Fees
Adult $3
Senior/Student $2

Fee Collection 10AM to 5PM
The Sackets Harbor Battlefield State Historic Site annually offers "The Commandant's Christmas," a curriculum-based learning experience for second grades that features period appropriate stories, music, a craft, food, and toys & games. The late spring "War of 1812 in Sackets Harbor" curriculum based immersive field trip program for elementary school students includes a craft, scavenger hunt, period toys and games, and demonstration by War of 1812 living history presenters. Call for details.
Following the outbreak of war between the United States and Great Britain in June 1812, Sackets Harbor became the center of American naval and military activity for the upper St. Lawrence Valley and Lake Ontario. The brig Oneida, with a company of marines, was already at the harbor to suppress smuggling between northern New York and Canada. Local woodlands provided ample timber, and a large fleet was constructed at the harbor's extensive shipyard. Barracks were also built for the thousands of soldiers, sailors, and mechanics who soon arrived to provide the manpower for the invasion and conquest of Canada.
In an attempt to destroy the American shipyard, a British-Canadian force launched an attack on May 29, 1813. At that time the majority of the American forces were across Lake Ontario attacking Fort George. The remaining Americans drove off the enemy, but their narrow victory was marred by a fire that destroyed their military stores. During the remainder of the war, Sackets Harbor was an active station where naval ships were constructed and supplied. In December 1814, the Treaty of Ghent officially ended the War of 1812, and the Lake Ontario fleet was placed in storage at Shiphouse Point.
After the war, the massive earthen fortifications protecting the harbor were graded off and the battlefield reverted to farmland. Several blockhouses were converted to barns and another became an office for the commandant of the Navy Yard.
The shipyard remained under Navy control because of the presence of an unfinished first-rate ship-of-the-line, the New Orleans. It was designed to carry a crew of 900 and was enclosed in a huge wooden ship house to protect it for future use. In 1817, the Rush-Bagot Agreement between the United States and Great Britain limited all naval forces on the Great Lakes. During the 1840s, old naval buildings were removed and new quarters were constructed for the naval commandant and sailing master (lieutenant), to meet the needs of a continuing naval presence.
The navy decided to scrap the New Orleans in 1883. The demolition of the vessel, together with improved Canadian-American relations, ended the need for a naval base in Sackets Harbor. The navy maintained the facility until 1955, although it was seldom used except for training by the state's naval militia.
The 1913 Centennial Park portion of the battlefield was recognized as early as 1866 as a special plot of land to be set aside to honor all the military personnel who had fought and died in the War of 1812. In 1878 the land was called the Old Battle Ground and was used for patriotic meetings, political rallies, church picnics, and other events.
New York State took control of the Navy Yard in 1967 and began acquiring more of the historic battlegrounds, including the most recent forty acres in 2006.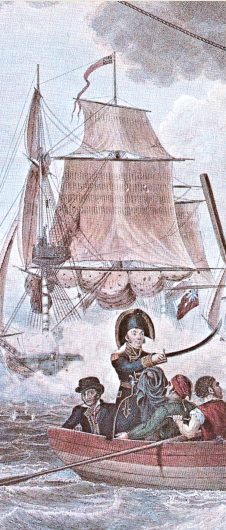 African American History Month
Across this nation and throughout the Empire State, African Americans have helped to shape American history, fight for independence, and secure freedom. The efforts of these individuals stand as a testament to their courage and an inspiration to us all.
In observance of African American History Month, the New York State Office of Parks, Recreation and Historic Preservation gives special recognition to some of the many stories associated with the African American experience at state historic sites.
At Sackets Harbor Battlefield, there is a unique connection between African American history and maritime history. African Americans made up nearly 15% of the U.S. Navy during the War of 1812, which took place mainly in waterways and port sites. The sea was not a place of full equality, but it was a place of far greater tolerance. Many African Americans found a level of freedom at sea that was unavailable on land.
First Day Hike
Monday, January 1, 2024 01:00 PM
Sackets Harbor Battlefield State Historic Site
Experience Sackets Harbor's scenic landscape and discover our history. Please note if icy conditions prevail, the hike is not recommended. Meet at Union Hotel building, 401 W. Main St, corner of Main and Ray Sts.