May 29, 2009
For Release: Immediate
Press Contact:
Eileen Larrabee
Dan Keefe
518.486.1868
Jefferson County Father and Daughter Lauded for Lake Rescue
Rescue underscores risks of boating without life jackets, cold water
Boaters reminded to practice safety as boating season gets underway
The New York State Office of Parks, Recreation and Historic Preservation, State Park Police, the U.S. Coast Guard, Jefferson County Sheriff's Office and the New York State Police today presented a Jefferson County man with an Award of Commendation from the National Association of State Boating Law Administrators, while he and his daughter each received a Life Saving Award from State Parks, for their roles in rescuing three young boaters.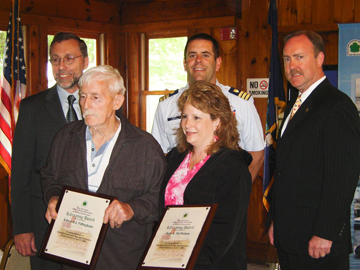 In April, Edward Fillingham, of Henderson, and his daughter Beth McMahon, of Cicero, responded to cries for help from three young boaters who fell from their paddle boat after it began going under the frigid waters of Lake Ontario. Without life jackets and unable to swim the nearly 500 yards to shore due to effects of the extremely cold water, the three young boaters quickly found themselves in a desperate situation. McMahon was instrumental in quickly helping Fillingham launch his canoe, which he paddled out to rescue the distressed boaters, at risk to his own life. McMahon again assisted her father as he neared the shore with the boaters.
"State Parks commends Ed Fillingham and Beth McMahon for their alert action, coming to the aid of three distressed boaters who would have almost certainly died if the father and daughter team hadn¡¦t worked together to bring the youths to safety," said State Parks Commissioner Carol Ash. "However, this incident is also a reminder that boaters should not rely on people like Mr. Fillingham and Ms. McMahon to come to their rescue. They need to be prepared for the risks that are a part of any boating excursion."
State Parks, which is responsible for providing the public with a safe, enjoyable environment for recreational boating in New York, nominated Mr. Fillingham for NASBLA¡¦s Award of Commendation. The national nonprofit organization, which works to develop public policy for recreational boating safety, annually presents its award ¡§to recognize persons who have exhibited heroism and faced risks to their own lives in saving another person or people involved in a recreational boating safety incident."
"The great thing about this rescue is that it was a tragedy averted," said Frank Jennings, recreational boating specialist for the Ninth Coast Guard District. "It is imperative for all boaters and paddlers, whether it's a 10-minute paddle on the pond or a 10-day boat trip, to assess the risks, realistically envision what can go wrong and, quite simply, be prepared. Wearing a Coast Guard approved, comfortably fitted life jacket is your first step to survival. Here in the Northeast over 80 percent of our recreational boating and paddling fatalities are the result of capsizing or falling overboard and, of these, close to 90 percent were not wearing a life jacket. Plain and simple, when you need a life jacket, you need it on."
As the recreational boating season gets underway in New York State, boating safety officials reminded all boaters to practice safe and responsible boating, including:
wearing a life jacket;
preparing for the unexpected, such as foul weather or frigid water;
completing a safe boating course;
properly equipping and inspecting their vessel;
maintaining a prudent speed;
helping fellow boaters in distress; and
refraining from mixing alcohol with boating.
In New York State, children under 12 must wear a life jacket at all times unless situated within the cabin of a vessel. Each vessel must have one United States Coast Guard approved life jacket for each person on board. All personal watercraft operators must be 14 or older and are required to complete a safe boating course. Children between the age of 10 and 18 may operate a motor boat without adult supervision if they have completed a safe boating course.
"Fun boating begins with safe boating. By understanding boating laws, the safe operation of your vessel, and the rules of navigation, you can better ensure a pleasant time for your family and friends," Ash said.
The State Parks Marine Service Unit is responsible for the general coordination of boating safety programs and supports marine law enforcement efforts across the state, including patrols, training and funding for local marine enforcement activities. For more information about boating safety ¡V including listings of boating safety courses ¡V and marine recreation in New York State, visit www.nysparks.com or call 518-474-0445.