June 12, 2009
For Release: Immediate
Press Contact:
Eileen Larrabee
Dan Keefe
518.486.1868
Revitalized Green Lakes Beach Open for Summer Fun
New bathhouse funded by state parks revitalization initiative
Community members volunteer to build playground donated by Nestlé Juicy Juice
State officials today officially opened a new $2.3 million updated bathhouse constructed under a state parks revitalization initiative, making Green Lakes State Park's popular beach an even more attractive getaway for families from the Syracuse area and beyond. As part of the bathhouse opening ceremonies, State Parks announced a statewide partnership with the makers of Nestlé Juicy Juice to fund new playgrounds at seven state parks, including Green Lakes, where volunteers are beginning to install the new equipment.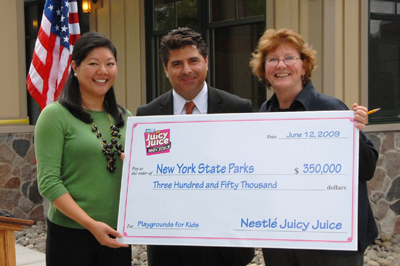 "I am thankful to Governor Paterson, members of the Legislature, our partners in the private sector at Juicy Juice, and the many volunteers helping build the playground for providing the resources and efforts needed to revitalize and improve Green Lakes State Park," said Office of Parks, Recreation and Historic Preservation Commissioner Carol Ash. "The rightful stewardship of New York's unparalleled state parks system requires good partnerships throughout society. The new Green Lakes bathhouse and playground demonstrate that the tremendous state park system has friends far and wide willing to contribute to its welfare."
"There is no better sign of a community's confidence in its future than the care given to its parks," said Edward J. Audi, Chairman of the Central New York State Park Commission. "The improvements at Green Lakes - which are the product of strong partnerships between our elected officials, private businesses, civic leaders, and hardworking volunteers - are an indication of the great belief and pride so many people have in Central New York."
The $2.3 million bathhouse, which replaced a deteriorated 50-year-old structure, provides accessible public restrooms and changing areas; a new food service concession; and lifeguard locker rooms, training area, office and first aid station. A new community room will also be available for public rental later this summer. In addition, State Parks invested $700,000 to replace the drinking water distribution system throughout the entire park, providing the visiting public with clean, safe drinking water. Major portions of the 1930s water system were failing.
"At Juicy Juice, we strive to help parents raise healthy, happy children, and partnering with the New York State Parks is the perfect way to provide families across the state with safe and enjoyable play environments," said Victoria Nuevo-Celeste, Nestlé Juicy Juice Marketing Manager. "Public and private partnerships are more vital than ever to the wellbeing of our communities, and Juicy Juice is thrilled to be able to serve hundreds of thousands of local families in this way."
Representatives from many local businesses and civic organizations volunteered for a "community-build" of the new Juicy Juice playground. The unconventional playground equipment, with multiple climbing, sliding and interactive play features, will provide play areas for children in age groups 2-5 and 5-12. Nestlé Juicy Juice is donating $350,000 over the next two years for sponsorship of new playgrounds at seven state parks, including Jones Beach, Robert Moses, East River, Saratoga Spa, Green Lakes, Wellesley Island and Letchworth.
Over the past two years, Governor Paterson and the Legislature authorized nearly $200 million in capital improvement spending for New York's 178 state parks and 35 historic sites. The infusion has enabled the state to begin addressing the estimated $650 million in capital needs of the parks system. "Green Lakes State Park, in addition to providing enjoyment and recreation for families in Central New York, plays a critical role in our tourism industry," Senator David J. Valesky said. "I am pleased to see these improvements come to fruition and to have helped provide support."
"Our state parks are a great resource for our communities, especially during these tough times," said Assemblyman Al Stirpe. "The Green Lakes State Park is a great source of inexpensive entertainment for Central New York families and this new bath house will provide important services and enhance the overall experience of park visitors."
"The magnificent new bathhouse at Green Lakes demonstrates the state's commitment to providing a high quality state park system," Assemblyman Bill Magee said. "Especially in tough economic times, New York families need first-class parks like Green Lakes to take a break, have fun and relax with friends and family."
"With so many New Yorkers vacationing close to home this summer, our state parks will be popular destinations, and we in this area are extremely fortunate to be near Green Lakes State Park, a safe and clean vacation spot for families," said Assemblywoman Joan K. Christensen. "I hope many, many New Yorkers will enjoy this park with its new amenities."
"I am glad the state funded this project which modernizes the bathhouse, making Green Lakes an even more attractive park for Central New Yorkers to visit," said Assemblyman William Magnarelli. "Commissioner Carol Ash continues to promote, maintain and modernize New York's State Parks which truly are a wonderful resource."
"As a strong supporter of our state parks, I am very pleased that we are celebrating the opening of the new bathhouse at Green Lakes," said Senator John A. DeFrancisco. "I believe that it is imperative for us to continue to make investments in our state parks, which is why I am also pleased to hear about the additional improvements that are in the works at Green Lakes and other parks in Central New York. Our state parks are essential to the quality of life in Central New York, and they also help to attract residents, tourists and businesses to our area."
"I'm pleased to see the state's continued investment in our parks system. Residents value their state parks and take ownership of their offerings," said Assemblyman Will Barclay. "State parks, such as Green Lakes, are places where families spend their hard-earned holidays and create traditions that the next generation often upholds."
Ash noted that the bathhouse was constructed with the environment in mind, using the slab and footings of the former building as one of its "green" components. Other environmentally friendly features include natural lighting and ventilation, low flow restroom fixtures, and recycled materials. Landscaping around the building includes stone from the Lake Ontario shore at Selkirk Shores State Park and plantings of native species. General Contractor S.J. Thomas Co. and subcontractors employed 75 workers on the project, laboring throughout the winter to open for the 2009 summer season. Work began after Labor Day 2008, and the bathhouse reopened on the Saturday of Memorial Day weekend.
Work is also ongoing on the Old Administration Building - including new heated restrooms, heated warming area and small catering area - which will make the Great Room available for rental. The Great Room and veranda have views of Green Lake and lake trail below, along with a courtyard suitable for a large tent. A new site plan is being finalized to design connections to the new bathhouse, the Old Administration Building, the parking areas and the playground.
Green Lakes State Park, which attracts 850,000 visitors annually, is a four-season park featuring two meromictic lakes and available for walking, jogging, snowshoeing, cross-country skiing, mountain biking, swimming, golfing and birdwatching. The New York State Office of Parks, Recreation and Historic Preservation oversees 178 state parks and 35 historic sites. For more information on any of these recreation areas, call 518-474-0456 or visit www.nysparks.com.